August 28, 2013 - 9:25pm
Suspected flirt charged with drunken driving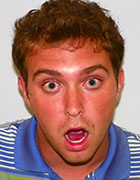 Robert Hinett apparently picked the wrong time and the wrong place for some flirting Friday night in Le Roy.
A passing police officer reports that at 11:30 p.m. he observed Hinett inside a convenience store on Lake Street staggering around and then go behind the counter toward the female clerk.
The officer entered the store and the clerk informed him that the man in the store seemed to be intoxicated and had tried to kiss her even as she tried to thwart his advances.
Upon further investigation, the officer determined that that 25-year-old resident of Montclair Avenue, Batavia, allegedly drove to Le Roy intoxicated.
Hinett was charged with one count of felony drunken driving and refusal to take a breath test. He was arraigned and released under supervision of Genesee Justice.
August 28, 2013 - 11:09pm
#3
No doubt from his shocked expression in the photo Romeo was thinking "Awe S#!T.