March 25, 2015 - 1:08pm
Suzanne Corona jailed on drug sale charge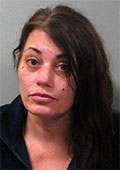 Suzanne Corona
With the exception of a petit larceny charged a year ago, Suzanne Corona has pretty much been able to keep her name out of the news since 2011.
The 45-year-old Osterhout Avenue resident became an international sensation in June 2010 when he was caught in a sexually compromised situation on a picnic table in Farrall Park.
The illicit tryst for the married woman led to a rare criminal charge of adultery, which sparked news headlines in tabloids from New York to London to Australia. 
Over the next year, her exploits continued to make news, especially in Western New York, but then she faded from view.
Her arrest by the Local Drug Task Force on Tuesday has her facing her most serious criminal charges yet.
Corona is accused of selling suboxone to an agent of the task force.
She is charged with fourth-degree criminal sale of a controlled substance and fourth-degree criminal possession of a controlled substance.
The charges are the fist time she faces a possible felony conviction.
Corona was jailed pending a bail review today.
Top: File photo from 2011.
March 25, 2015 - 6:12pm
#1
March 25, 2015 - 6:22pm
#2