January 28, 2015 - 2:46pm
Task Force announces arrest of two suspected dealers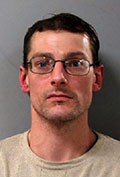 Joshua Baltz
A pair of investigations by the Local Drug Task Force has led to the arrest of two men, one accused of selling a controlled substance, the other of selling marijuana.
Busted were Joshua L. Baltz, 38, of Wood Street, Batavia, and Mark A. Knickerbocker, 17, of Route 262 in Byron.
Baltz allegedly sold a quantity of suboxone to an undercover agent on three separate occasions, once in Pavilion and twice in the City. 
He is charged with criminal sale of a controlled substance, 4th, a Class C felony.
Knickerbocker is accused of selling marijuana to a person under age 18 while in the Town of Bergen in May.
He is charged with criminal sale of marijuana, 2nd, a Class D felony.
The task force was assisted by the District Attorney's Office, uniformed deputies and Batavia PD.
January 28, 2015 - 5:09pm
#1
January 28, 2015 - 11:08pm
#2
He is well known by authorities.