April 24, 2015 - 4:57pm
Teen admits to violent robbery, but says no weapon was used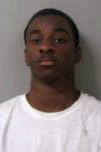 Tyshon Taylor
A teenager accused of participating in a violent robbery in March on Central Avenue is facing a possible three years in prison after entering a guilty plea in County Court this afternoon to a charge stemming from that attack.
Tyshon L. Taylor was originally charged with assault in the first degree, but the plea deal reduced the charge to attempted assault, 2nd.
In the initial report, Taylor was accused of hitting a person with a gun, but when Judge Robert C. Noonan questioned Taylor as part of the factual admission portion of his hearing, Noonan asked about the use of a knife. Taylor said no weapon was used at all.
After a conference among the attorneys at Noonan's bench, District Attorney Lawrence Friedman amended the count Taylor would admit to. Instead of second-degree assault, the charge was changed to attempted assault, 2nd. That kept it as a Class D violent felony and preserved the three-year potential prison term.
Taylor then admitted to participating in the forcible theft of property from a person while working in concert with another suspect.
His co-defendant is Preston Daigler, who is scheduled to appear in County Court on Monday on a possible plea deal.
Taylor was soft spoken and respectful throughout the hearing, often answering Noonan's questions with, "yes, sir."
Sentencing is scheduled for 11 a.m., July 6.  
Taylor remains in custody without bail.
April 26, 2015 - 9:51am
#4
I don`t mind seeing tax dollars go towards putting criminals away for the time they deserve. I am sick of reading about everyone`s fear of where their tax dollars are going. You are going to pay taxes regardless of what you think they should go for! They might as well be used for cleaning up this town which is getting worse by the day. All cutting people like this a break does is make them think they will get cut a break in the future and resort back to crime. Frank, you have a problem with every time a person gets arrested on here and somehow always get it back to being a violation of your rights or a waste of your tax dollars. It gets quite old and I am thankful we don`t live in a society run on your beliefs. As for the few of you who gave me - votes on my first comment, I would love to hear your reason. I believe I have a - vote club!