June 17, 2012 - 11:20pm
Three members of Le Roy family jailed after scuffle with police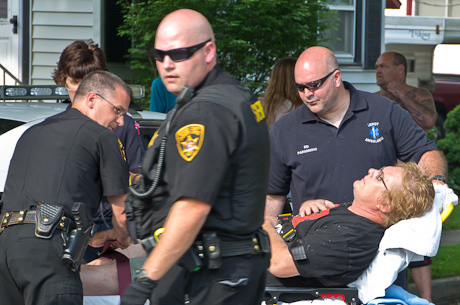 UPDATED Monday, 8 a.m., with confirmation of the suspects' identities, charges, additional details about the arrests and information provided by another person who said she witnessed the events.
----
What would normally be a routine arrest -- for alleged criminal contempt -- took a quick turn for the worse Sunday evening in Le Roy bringing out a significant response from multiple law enforcement agencies.
In the end, three people were arrested and no officers nor civilians were seriously injured.
"It went from zero to 60 in under a couple of seconds. It was just that quick," said Chris Hayward, chief of police for the Village of Le Roy. "Speaking to the officer afterwards, you're standing there waiting for that extra help to get there and it feels like it's taking forever and it's only taking a couple of minutes for people to get there to help you. These situations just spiral out of control real quickly. Fortunately, it's not something that happens on a regular basis."
Taken into custody were three residents of 21 Maple Ave.: Michael J Mead Sr., 25; Donald E. Mead Jr., 49; and Elaina J. Mead, 43.
Michael Mead is charged with criminal contempt, 2nd, resisting arrest and harassment, 2nd. He was jailed on $20,000 bail.
Donald Mead is charged with assault, 2nd, a Class D felony, criminal possession of a weapon and obstructing governmental administration. He was jailed on $15,000 bail.
Elaina Mead is charged with attempted aggravated assault on a police officer, a Class C felony, menacing a police officer, a Class D felony, and obstructing governmental administration. She is being held on $15,000 bail.
The incident began some time around 5 p.m. when Deputy Matthew Butler and Officer Emily Clark went to the Maple Avenue address to speak with Michael Mead about a criminal contempt complaint.
According to Hayward, after an interview, Butler informed the suspect that he was under arrest.
Allegedly, Michael Mead physically resisted arrest.
Michael Mead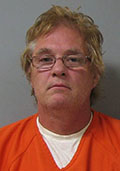 Donald Mead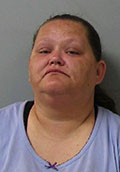 Elaina Mead
UPDATE 3:01 p.m.: Booking photos weren't available earlier because of computer problems at the Sheriff's Office.
As officers attempted to take Michael Mead into custody, Donald Mead allegedly tried to slam the front door on the officers, striking Butler with the door.
As the officers reportedly wrestled with the Michael Mead, Elaina Mead allegedly came out of the house and pushed a knife against Butler's chest.
Clark knocked the knife from the woman's hand and suffered a minor cut in the process.
Elaina Mead then reportedly reentered the house, raising further concern for the officers and their safety as they continued to wrestle with the suspect.
It's unclear what Donald Mead was doing at this point.
At some point during the scuffle, Clark requested back-up from Genesee County Emergency Dispatch, informing dispatchers that she and Butler were dealing with multiple agitated subjects and that at least one person had come at them with a knife.
As additional deputies and State Troopers responded, Butler said, "Keep sending all units. Multiple people are going to be arrested."
A Livingston County deputy responded and deputies in Orleans and Wyoming counties staged on the county lines ready to respond if more manpower was needed.
Within minutes of back-up arriving, all three suspects were in custody and additional units responded were told they could "back it down."
Sunday's incident, Hayward said, emphasizes the need in Genesee County for multiple law enforcement agencies to provide sufficient coverage in emergencies.
"Today demonstrates that if we didn't have services along those lines, one or more officers would have been hurt," Hayward said.
Judging from scanner traffic, it sounded like several individuals were involved in the ruckus, but Hayward said up until the point of the arrests, only son, mother and father were involved.
According to Lourina Jeanotte, who emailed The Batavian in response to our initial report, said she was at the scene Sunday and said the suspects were gathered with other friends and family members for Father's Day when Butler and Clark knocked on the Mead's door.
She claims Elaina never threatened Butler nor Clark with the knife and only had it in her hand because she was cutting a steak and she forgot to put it down when she rushed out of the house because she believed Clark was beating her son.
Another person who said in an email she was there and witnessed the events, Cassidy Pucci, said Butler grabbed Michael Mead for no reason and that Donald Mead tried to assist his son.
She said Elaina Mead had a knife in her hand, but dropped it and started yelling at the officers, "Why are you hurting my son? It's Father's Day. Why are you hurting my son?" 
Pucci said Clark kicked the knife away.
At some point, Elaina Mead and Donald Mead started back toward the house, Pucci said, and Donald yelled something about the officers being in the wrong, that they had no reason to come to his house and grab his son.
When Donald Mead was cuffed and sitting in a Le Roy PD cruiser, Jeanotte said she saw Donald in the patrol car with the windows rolled up and he "began to shake and sweat horribly."
Jeanotte began to yell that he was having a medical emergency and several other people began to yell and one young man tried to open the back door of the cruiser and Clark pushed him away.
EMS personal were on scene and got Donald Mead out of the car quickly.
One male at the scene yelled that Donald Mead had a heart condition.
Donald Mead was placed on a stretcher and transported by Le Roy Ambulance to UMMC. He was released from the hospital about an hour later and taken into custody.
According to Hayward, the Sheriff's Office has been trying to resolve the criminal contempt charge for a couple of weeks, but the suspect had been uncooperative.
"Speaking to the deputy, it appears that they went above what they would normally do to get the matter resolved and that's what resulted in the deputy going there tonight," Hayward said.
Michael Mead is accused of violating an order of protection.
Some of the Mead's neighbors said 21 Maple Ave. is a regular source of disturbances. Hayward confirmed that police have responded to the address on prior occasions, but did not have specifics on the nature of the calls.
The property is owned, according to online county records, by Troy Overholt.
It's unusual for a misdemeanor arrest to escalate as this one did, but it points out why officers need to be vigilant in all situations, Hayward said.
"There wasn't anything that would have raised concern any more than what you typically go through when you go to deal with people," Hayward said. "It was one of those situations where they went there and it escalated out of control quickly."
Asked about how some people criticize police for how they conduct themselves in arrest situations, Hayward said many times people really don't understand the safety concerns.
"You'll see people criticize the actions that officers take but until you've been in that situation where you are really concerned about your safety or the safety of others around you, you really have no basis to speak from," Hayward said. "These officers were in a situation where they were taking appropriate measures and because of that neither was seriously hurt."
UPDATE Monday, 1:57 p.m.: Donald and Elaina posted bail. Michael Mead remains in jail.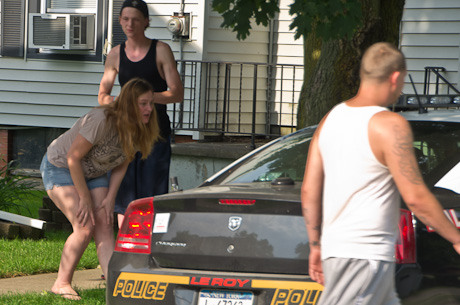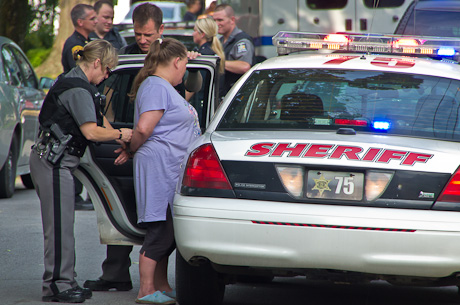 PHOTOS: Top, Donald Mead on a stretcher being assisted by Le Roy medics after suffering an apparent health issue while sitting in a patrol car. Second, Lourina Jeanotte becomes alarmed while observing Donald Mead in the patrol car. Bottom, Trooper Holly Hansell adjusts the handcuffs on Elaina Mead.
June 18, 2012 - 7:07am
#2
It is a shame that you would comment must be something in the water. Those people have moved here from somewhere else. The police did a great job. I live on Maple Ave. and this is not the first time for chaos from that house. Try some people have a lack of respect for the law. If they are not raising hell like this with the cops , it is with the neighbors. Of course they are gonna cry wolf and say the law is wrong. They responded quickly when it was properly brought to their attention about the dads medical concern. The whole neighborhood was out there watching. And this article did not mention that they had a group of kids (like 5 or so ) there and as the adults they were doing this in front of them. Even if the woman forgot she ran at officers with a knife.
Here's a thought -
He knew he had a warrant. How about he just man up and go with the cops? Take responsibility for what you have done. Instead of creating a situation like this.