October 1, 2014 - 12:30pm
Town planners give initial nod of approval to apartment complex on West Main Street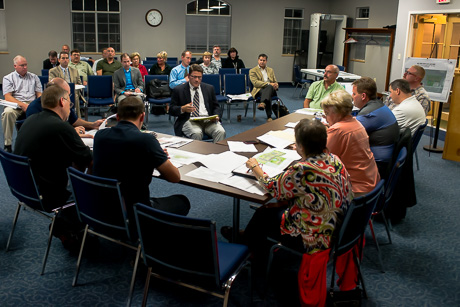 Two members of the Town of Batavia Planning Board said they were initially opposed to plans for an apartment complex in an area zoned commercial on West Main Street Road, but after study and consideration, decided to vote in favor of the project.
Those votes were essential last night to early-stage approvals for Big Tree Glen, a planned 136-unit complex from Rochester-based Conifer Developers.
The board approved the environmental review process, a zoning variance and a preliminary site plan.
The zoning variance is contingent on agreements in the final site plan that will prohibit Section 8 and HUD-subsidized rents in the complex, as well as continued on-site management.
Conifer is applying for a state grant aimed at encouraging "workforce housing," and that subsidy combined with putting the complex in a commercial zone were stumbling blocks for board members Paul Marchese and Lou Pagnello.
After Pagnello did some research, however, spoke with an attorney friend and thought about it some more, he decided he should support the project.
He said factors included the solid reputation of Conifer and the quality they're promising for the new complex. 
He said he also realized that as a businessman, if he were expanding or building a new business, he would apply for whatever government aid might be available. Any business owner would, he said.
"The more I think about it, the more I think this benefits the community as time goes on," Pagnello said. "I was totally against it, but after doing a little research on my own, that's how I feel about it now. We want development in Batavia and we want to work with developers who are top-notch, not like some of the others we've dealt with before."
The complex, he said, will actually help spur commercial development on West Main, which is a key development goal for the town.
Marchese said he was with Pagnello.
"I was really against it, too," he said.
Because the county planning board recommended disapproval of the project, the town board needed at least five affirmative votes to approve the zoning variance. The vote was 5-1.
Paul McCullough voted no on the zoning variance request. He didn't state a reason for his no vote.
The board will need to approve a final site plan at a later date that will include the covenants and restrictions it's looking for to ensure the complex remains a quality housing project.
The state grant Conifer is applying for requires that the apartment complex meets the residential needs of people earning 50 to 60 percent of the area's median income.
That's about $65,000 for a a family of four in Genesee County. For the Town of Batavia, the complex will actually be meeting the needs of a family of four earning about $54,000 a year in gross income.
"This is truly workforce housing for the Town of Batavia," said John F. Caruso, representing Conifer.
Previously:
October 2, 2014 - 11:58pm
#1
My question is... Why did it take an out of town developer to pursue this project.