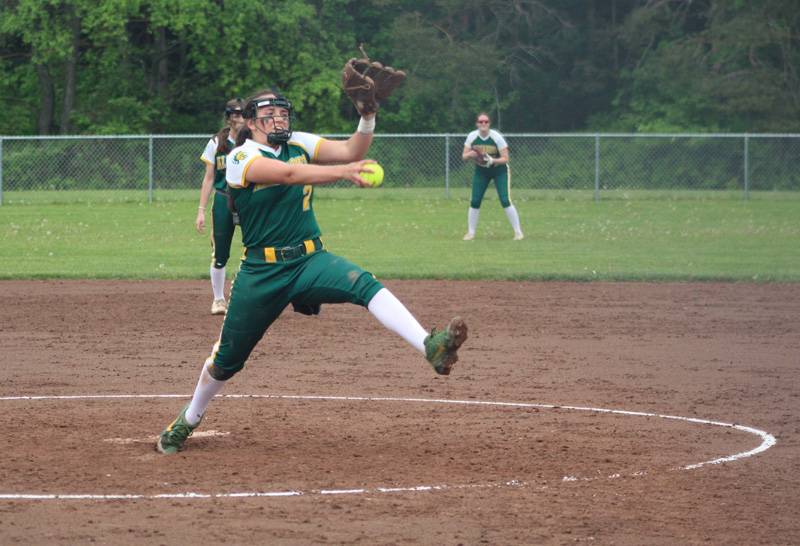 In Girls Softball on Friday, the Alexander Trojans kept their season going with a 20-5 win over East Rochester.
Freshman Ava Yax, along with Sophomores Faith Goodenbury and Brianna Neyman, led Alexander at the plate as the three hits each for a combined 9-11 on the day. 
Ava Yax was 3-4, with four RBIs, two runs scored, and two stolen bases, while Faith Goodenbury was 3-3 with a two-RBI double, one run scored and one stolen base and Brianna Neyman was 3-4 with a double, two RBIs and one run scored. Madison Boyce, Melissa Sawyer, and Carley Shepard all contributed with Multi-hits games.  Emily Pietrzykowski extended her hitting streak to 13 games with a triple to right center. The 17 team hits pushed Alexander over 200 team hits on the year. 
Madison Boyce picked up her sixth win (6-2) on the bump with another dominant performance where the hurler tossed six innings, allowing five hits, one earned run,  and one walk. She whiffed 11 batters.  It was her fourth double-digit strikeout outing of the year and brought her strikeout total to 86 through nine starts.
Next up for Alexander (#5 seed) is the Section V Quarterfinal matchup with Oakfield (#4 seed) on Monday at 5 p.m. in Oakfield.
"The girls did a great job in the box again today," said Head Coach John Goodenbury. "Any game that your team can come out and get 17 hits while your pitcher tallies double-digit strikeouts is going to be a good day.  Today was nice for the girls, but we all know what lies ahead of us Monday with Oakfield.  We will try to focus on the game at hand, but we all had Oakfield on our minds today. That's going to be a fun game, and they did beat us twice this season by one run each time, so we just want to go in there, play solid defense and let the chips fall where they fall. We've had a fantastic season so far, and we just don't want it to end."
Submitted information. Photos by Cathy Sawyer.