January 8, 2014 - 10:53pm
Truck drivers assist deputy being dragged by suspect's car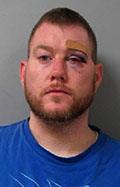 Scott Kopper
A truck driver and a tow truck operator came to the aid of a deputy today after a criminal suspect allegedly trapped the deputy's arm in a rolled up window and dragged the deputy with his car as the suspect tried to drive away.
The truck drivers used their vehicles to pin the suspect's car against a snow bank, giving Deputy Brian Thompson a chance to break the window and subdue the suspect.
Taken into custody was Scott A. Kopper, 36, of East Main Street, Corfu.
The incident began at 11:35 a.m. when Thompson was dispatched to Route 33 in Pembroke to check on a car reported off the road.
Thompson, who has had prior contact with Kopper, recognized the driver and after checking with dispatchers, learned Kopper was wanted by NYS Parole.
Kopper allegedly refused to exit his vehicle, despite numerous requests by Thompson.
When Thompson attempted to stop Kopper from leaving the scene -- his car had been extricated from the snow bank by the tow truck driver -- Kopper allegedly rolled up his window, trapping Thompson's arm.
A witness said Kopper then tried to drive away, dragging Thompson about 100 feet.
With the vehicle rendered immobile, the two truck drivers assisted Thompson in subduing Kopper.
Thompson suffered bruising and minor cuts and scrapes, but escaped serious injury.
Kopper was charged with two counts of assault in the second degree. Additional charges are pending. Kopper was jailed on $25,000 bail.
Kopper is the former owner of WNY Blacktop Sealers.
January 8, 2014 - 11:14pm
#1
Large city, small town or rural road this illustrates how law enforcement officers risk their lives every day. It may seem like a small little incident to some, and there are a lot of what ifs, thank God it turned out not to have been much worse.
The truck driver and tow truck driver probably made the difference between a serious injury or worse.