April 12, 2013 - 4:31pm
Trustee asks Corfu mayor to resign
posted by
Howard B. Owens
in
corfu
.
The situation has gotten to the point in Corfu, Trustee Ken Lauer believes, that Mayor Ralph Peterson should step down.
Lauer e-mailed Peterson this morning asking him to resign and Lauer plans to restate his request at a village budget meeting scheduled for 6:30 p.m.
Lauer said he believes that while Peterson has been on the job for only about two weeks, he's already been caught lying, has taken action contrary to agreements with the other trustees and made it difficult for the village to operate in an effective and efficient manner.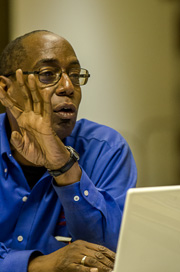 Mayor Ralph Peterson (file photo)
"We as a board have addressed the issues that have been caused by the mayor," Lauer said. "No one else has caused them. Absolutely no one, except the mayor. He's taken responsibility and claimed he's new to the thing and learning and he apologizes. We've accepted those. I accepted those, but up to a point."
The tipping point, Lauer said, came this morning
According to Lauer the trustees and the mayor reached an agreement to allow Sandra Thomas and Denise Beal to take the weekend to decide whether to return to work.
Thomas and Beal were either fired Wednesday by Peterson or they walked out of their jobs, depending on who's version of events you believe.
This morning, according to an e-mail shared with The Batavian by Lauer, Peterson wrote to attorney Kevin Earl asking for advice on how to get new personnel into the clerk's office Monday morning.
Lauer feels Peterson is ignoring a prior agreement with the other trustees and replace Thomas and Beal before they've been given a  fair chance to return to work.
In an e-mail that appears to be from Peterson to Earl, Peterson writes, "Sandy walked off the job with the misunderstanding of being fired. She has been contacted several times informing her she has a job and return to work and she has not. What actions can be taken? How many day are required to have a job abandonment situation."
It's Lauer's understanding that Mark Boylan is still the attorney for the village, not Earl, because Earl was not duly appointed earlier this week.
Among Lauer's complaints is that Peterson is unilaterally contacted legal council and asked for advice, causing the village to run up legal fees without board concurrence. That's exactly the kind of activity that Peterson accused former mayor Todd Skeet of taking, Lauer noted.
"You might want to know that the residents of the village are very disgruntled with you and will be using their rights to ask the Supreme Court and Governor of the State to remove you as Mayor," Lauer wrote in his e-mail. "I would ask that you seriously consider resigning from your position as Mayor before more harm and legal costs are created and borne by the residents of the Village of Corfu."
Last night Peterson said he was done talking with The Batavian. We sent him a text message this afternoon asking for comment on Lauer's request that he resign and so far have not received a response.
It's Lauer's belief, he said, that Peterson's actions are meant as a smoke screen to divert attention -- if not actually attempt to conceal evidence -- away from the current Commission on Judicial Conduct investigation, and apparent -- now -- criminal investigation, over the alleged disappearance of funds from the court of former Village Justice Robert Alexander.
More than a year ago, a state audit alleged that at least $10,000, if not more, is missing and unaccounted for from the coffers of the court.
Alexander's daughter, Brandi Watts, was clerk for Alexander at the time the money allegedly went missing.
Much of the conflict on the board of trustees between Peterson and former mayor Todd Skeet along with former trustee Al Graham started about the time allegations of misappropriations first arose.
Peterson and Alexander are reportedly friends.
According to a letter sent to Peterson on Wednesday by Donald G. O'Geen, district attorney for Wyoming County, there is a criminal investigation being under taken in the case.
O'Geen is acting as a Special District Attorney since the Genesee County District Attorney's Office may have a conflict of interest. The local DA's office has previously tried cases in Alexander's courtroom. Alexander is also still a justice for the Town of Pembroke and the local DA's office must try cases in the Pembroke Town Court.
The letter from O'Geen follows a complaint filed Monday by Thomas and Beal that Peterson had been pressuring them to give up their passwords to the village computer system.
The village system acts as a back up for the court sytem and has court records on it.
"It has come to my attention through numerous sources that you and the other members of the board wish to secure documents and/or records pertain to the court," O'Geen wrote in his letter. "I am putting you all on notice that any actions, regardless of intentions, that may impair, obstruct or tamper with any items relevant to court operations may be grounds for action by the Genesee County Grand Jury. Please do not make copies, remove, or touch in any way, court documents or any court business records, including equipment until further notice. Any such action may be deemed to be an action to tamper with physical evidence. You should be aware that every record of the court sytem that currently exists may be used in an official proceeding at some point in the future."
O'Geen continues, "It is clear from your actions prior to and after the election that you may be biased toward one side or the other in this investigation and any actions on your part or on the board's behalf may present a very clear appearance of impropriety."
O'Geen also warned Peterson not to take any administrative action that could be construed as tampering with witnesses.
Current court personnel as well as village staff are potential witnesses in the case.
In the e-mail Peterson appears to have sent to Earl this morning, Peterson wrote, "I am concerned that the actions of the office personnel saying I fired them, the delay of allowing me access to the computers are related to this (O'Geen's) letter. I was not aware there was sensitive investigation information on the Village computers. If there was why didn't they remove it before I took office they had two weeks to do it! There seems to be a plot of some kind here."
Lauer also shared an e-mail exchange he had with O'Geen.  Lauer asked if the DA's investigation extended to the village, not just the village court.
"The other aspects of the village are not being investigated but the way things are going you never know," O'Geen wrote. "The only non-court related property that I am concerned with is the Village Clerk and/or Deputy Village Clerk's computer because apparently there may be back up court records on either of those and the fact that someone had tried to gain access at 1:15 in the morning two days ago indicates to me that this probably the case."
April 12, 2013 - 5:43pm
#2
Slowly some answers but yet many more questions. First off, thank you Ken Lauer. Im my opinion this "mayor" at the very least is an obstructionist. I believe he is misleading not only the two newer trustees but every single village resident. Why is the mayor consulting with an attorney that is not on retainer for the village? Not a single cent of village money should be paid to Mr. Earl ! Why is someone trying to gain access to secure village and state records at 1:15 am!! The meeting and executive session held on Thursday night was completely ILLEGAL. A State official already knows of this illegal meeting and wants to be kept informed of any more improprieties. I hope the Wyoming County DA thoroughly investigates not only all of this alleged criminal activity in the court system but each and every aspect of this mayors misdeeds and lies