April 12, 2012 - 9:05pm
Union officials making waves over alleged out-of-state hiring practices of Wave Holding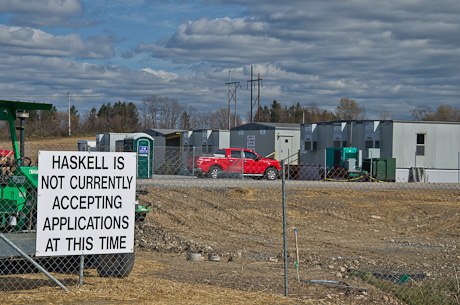 Two giant multinational companies received millions in taxpayer subsidies to launch "Project Wave" in Batavia on the promise of creating local jobs and stimulating the local economy, but so far, according to Dave Young, it's not happening.
Steve Hyde, CEO of the Genesee County Economic Development Center, disputed Young's claims saying that Wave Holding has made a committment to hire a majority of local construction workers and that as of last week, 50 percent of the contracts had been awarded with 80 percent going to local firms.
Young is a union man -- president of the Rochester Building and Construction Trades Council, as well as business manager of IBEW Local 86 -- and he will hold a press conference at 10 a.m., Friday, at the Genesee Valley Agri-Business Park to try to draw attention to the number of out-of-state workers being employed by Wave Holding, LLC.
"There are a lot of construction workers in our area who are out of work," Young said. "This isn't a union or non-union issue. It's a community issue."
Young and Anna Dumont, executive director, Rochester Building and Construction Trades Council, released a pair of videos Dumont said were shot this morning at the job site of Project Wave showing numerous out-of-state license plates on what they say are the cars of construction workers employed by building contractor Haskell and its subcontractors.
We received no reply to an email this afternoon to PepsiCo asking for comment on the situation.
Pepsi along with Germany-based Theo Muller Group formed Wave Holding to introduce a new Greek-style yogurt product to the United States and are spending more than $206 million to build a 363,000-square-foot facility.
The plant will initially employ nearly 200 people and could eventually employ as many as 600 people.
Wave Holding received more than $11 million in tax abatements for the project and the GCEDC has been able to channel millions more into building the ag park and ensuring the park has sufficient infrastructure to support operations there.
Young suggested GCEDC should adopt rules similar to those he claims are already in place in Monroe County -- if you get tax breaks for your project, you need to hire local workers.
"That's true of all IDA subsidized projects in Monroe County," Young said. "Some go union and some go non-union, but either way people in our community get to go to work every day. They earn paychecks that support their families. This is truly a community issue."
Hyde, who answered a couple of questions even though he's out of town on vacation, said the GCEDC supports local labor.
"We have done everything we can to encourage local labor and are a huge fan and advocate of local labor," Hyde said. "We have done so with Wave many times."
Young claimed the unemployment rate among construction workers in Western New York is about double the rate of the rest of the work force.
The problem with out-of-state workers (and Young thinks some of the workers at the site aren't even U.S. residents) is that they send their wages back home rather than spend the money here.
Studies, he said, put the multiplier effect of locally based construction work at three to seven times the worker's wages.
"They're paying taxes, going to local stores, getting things fixed locally, sending their kids to local schools and colleges," Young said.
Young said he hopes public attention on the matter will get Haskell to hire more local workers.
Meanwhile, throughout the construction of the Alpina yogurt plant, the parking lot -- including today -- has been consistently filled with vehicles with New York license plates.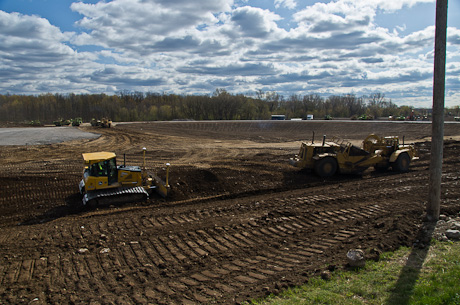 April 13, 2012 - 9:13am
#1
As I stated when all tax breaks were given to this project, along with others. The jobs that were being createdshould be for Genesee County residents first. Just because the contracts are with LOCAL companys the license plate paint a different picture. Mr. Hyde and the county legislature should look inti this right away because other project will be starting soon that also have tax breaks given to them, and I will assume they also agreed to a hiring of locals.
Mr. Hyde says he has encougared local hiring many times. How about telling them they could be violation of the agreement and could lose the tax breaks?