April 27, 2013 - 8:23am
Update on The Batavian and our ad server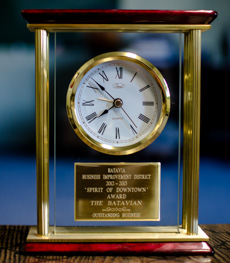 We are pretty close to getting the new ad server running properly. There are some details to clear up today to make sure all the ads are displaying properly, but the main work is done.
This virus crisis was very stressful and I want to thank all of the readers and local business owners who were so patient and understanding over the past week. We didn't get a single angry phone call or e-mail; nobody accosted me in the street. Everywhere I went people were more curious than upset with the situation. Billie and Lisa and I are very thankful for that understanding response.
Added bonus: We now know we are using a more secure ad server, but here's a benefit I didn't anticipate -- the new ad server seems to be much, much faster. At least for me, even on my iPhone, the site seems to download much faster than it did with the previous ad server. I hope you're noticing a difference, too.
The other thing Billie and Lisa and I are very thankful for is the "Spirit of Downtown" award we received yesterday from the Downtown Improvement District. We're feeling very honored to be recognized by the BID for our work with The Batavian.
And thank you to Dan Fischer of WBTA for his kind words during yesterday's presentation.
As I said yesterday, we feel very fortunate to have been so warmly accepted by the people of Genesee County in just a few short years (The Batavian's fifth-year anniversary is Wednesday). Thank you all -- readers and local business owners -- for your support of The Batavian.
April 27, 2013 - 8:58am
#1
Glad you got the problem fixed, guys. I find the site loads much much faster.