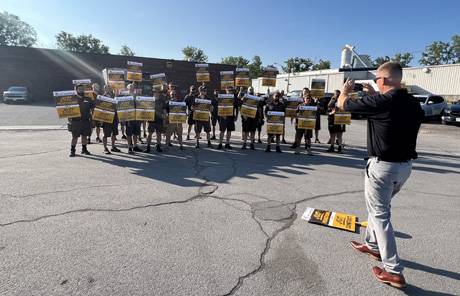 UPS workers in Batavia gathered outside the company's Batavia location at 7 Apollo Drive on Thursday morning to demonstrate their willingness to go on strike if, in their view, working conditions don't improve.
Jeremy Pietrazykowski, VP of Teamsters Local 180, said the short picket this morning both served the purpose of sending a message to the leadership at the company and also preparing workers for picketing if a strike becomes necessary.
Wednesday, he said, talks between the union and UPS broke down.
"It's about the last 25 years in a nutshell," Pietrazykowski said. "It comes down to the excessive overtime, the forced working extra days. It's about how you're treated as an employee. It goes well above and beyond the monetary value at this point. It's your time away from work, the valuable time that we have. 
"In today's world is not just about working 20 hours a day. It's about coming to work, doing a great job, and then going home and spending time with the ones you love. So that's the most precious time. You can't put a price on your free time. And that's what the company doesn't understand. And they fail to understand that we're not just machines, or industrial athletes, as they call them. We're human beings with families that we want to spend time with."
This is not yet a work stoppage.  After the short picket, everybody returned to work to make sure customers get their packages on time.
"This is so that we get our act together," Pietrazykowski said, "so that when the time comes, if we are going to strike and make no mistake, everyone is prepared to strike. But we want to prepare our members what to expect on that first day. Right? So we just don't stand up here, and we don't know what we're doing."
Pietrazykowski once worked in the Batavia facility. He's from Batavia. He said he's known the workers in the local UPS crew for 30 years. This is his home, which is one reason he chose to do this first pre-strike picket in Batavia.  He was also traveling to Geneseo today for a similar practice, message-sending picket.
"I love all my members, but you know, I'm from Batavia. I worked here for a long time. I know everybody," Pietrazykowski said. "I always keep them involved."
Photos by Howard Owens.
Image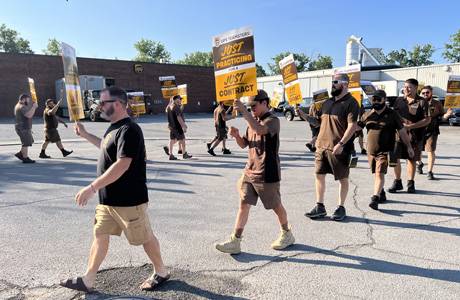 Image
Image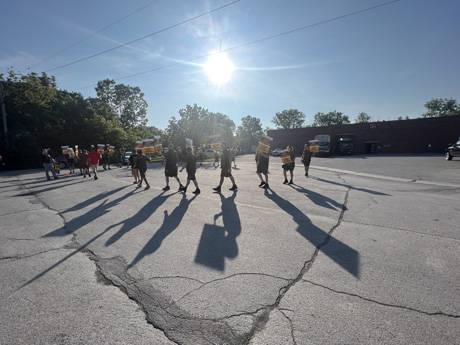 Image