February 21, 2015 - 5:32pm
Victim of accident in Bethany succumbs to injuries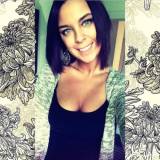 An 18-year-old Pembroke resident and student at GCC, has died as a result of injuries she sustained in an overnight accident in Bethany, the Sheriff's Office announced.
Alyson D. Krzanak, who listed her employment on her Facebook page as GCCA Child Care Center and JCPenney, was flown by Mercy Flight to ECMC following the early morning accident at Route 20 and Molasses Hill Road, and was initially listed in critical condition.
The Sheriff's Office release does not list a time of death.
Krzanak was one of six people in a 1997 Geo Prism that was northbound on Molasses Hill Road when it crossed Route 20 and was struck by an eastbound tractor-trailer.
The vehicle was reportedly driven by Hannah Dibble, 21, of Pembroke, who was transported by Mercy EMS to ECMC and treated and released.
Also injured were Brandon Danser, 21, of Batavia, who was taken by Mercy Flight to U of R Medical Center and is listed in guarded condition.
Jamie Scherer, 21, of Pembroke, was transported by Attica Ambulance to WCCH and then transferred to U of R by Mercy Flight, and he is in guarded condition.
Gabrielle Uzarowski, 21, of Pembroke, was treated at the scene and released. Felicia Fazzio, 20, of Darien, was transported by Mercy EMS to ECMC and is in stable condition.
The driver of the truck, Leonard Odums, of Cutburt, Ga., was not injured.
The accident remains under investigation. The Crash Management Team responded to the scene.
Assisting the Sheriff's Officer were State Police, Bethany, Alexander, Attica, and Pavilion volunteer fire departments along with the Genesee County Emergency Management Office.