January 26, 2015 - 6:14pm
When the weather warms up, Bill Cultrara will be cooking again, with Duke's Smokin' Bone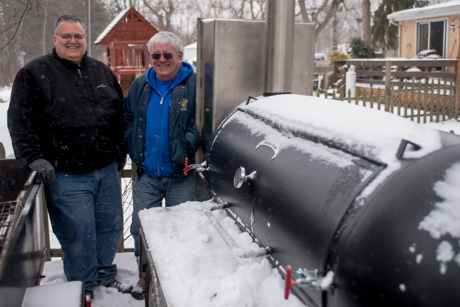 Bill Cultrara and Larry Reisdorf are eager for the snow to clear from the smoker so they can get busy again with some serious BBQ.
Reisdorf has owned and operated Duke's Smokin' Bone, a catering service, for about a decade, and with business growing, he thought Cultrara's experience and expertise could help kick things up a notch.
Cultrara is a chef and former owner of Delavan's.
"With his experience, I thought it would be great if we could team up and work together," Reisdorf said.
Fans of Delavan's will be glad to see Cultrara cooking again, and happy to know Duke's will start offering his secret-recipe Italian sausage.
"I saw this as a different opportunity, nothing I've ever done before, and I like to learn," Cultrura said.
The new menu will include spatchcocked chicken and beer can chicken along with beef brisket and ziti and sausage (smoked or grilled). Duke's longtime favorites, quarter chicken, pulled pork and ribs, along with a several other meats, will also be available.
Duke's is available for private parties, corporate events and graduations.
For more information, visit Duke's Web site.
January 27, 2015 - 3:06pm
#1
I have known Bill and Larry for a long time. The BBQ IS ALWAYS AWESOME!!!!!!
I have never had a bad meal. Food is always a 10!