July 30, 2012 - 2:38pm
Whether case against Simmons goes forward will depend on judge's ruling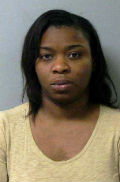 In a week or two, attorneys in the Jacquetta Simmons case will find out from Judge Robert C. Noonan whether two felony counts against the 26-year-old Batavia woman will stand.
Simmons is accused of punching a 70-year-old Walmart employee on Christmas Eve.
A grand jury indicted Simmons on felony counts of assault in the second degree, for allegedly hitting the victim with intent to cause serious injury, and a second count of assault, 2nd, charging Simmons with hiitting a person more than 10 years older who is also 65 years old or older.
A hearing today was scheduled for Noonan to consider the constitutionality of the so-called "elder abuse" law, but Noonan also asked the defense and prosecution to address whether sufficient evidence was presented to the grand jury to support count one of the indictment, the basic second-degree assault charge.
On the assult charge, attorney Ann Nichols argued that there is no evidence presented to the grand jury that Simmons intended to cause serious or permanent injury to the victim, Grace Suozzi, nor that Suozzi suffered such an injury.
"In the grand jury minutes, Ms. Suozzi does not say she was punched," Nichols said. "She says she was hit. She doesn't say she was punched until after Mr. (District Attorney Lawrence) Friedman uses the word punched in a question. I don't see intent to cause serious physical injury being reliant on one punch, if it was in fact a punch, and Ms. Suozzi said herself it was just a hit."
There's no doubt, argued Melissa Cianfrini, assistant district attorney, that the "roundhouse" swing by Simmons was a punch.
Cianfrini described a surveillance video which she said depicted Simmons bracing her leg, winding up and taking a full swing at the victim.
"The punch was so powerful that it knocked her off her feet," Cianfrini said.
Simmons's intent was also clear from statements the defendent allegedly made before and after the alleged assault.
According to Cianfrini, Simmons last statement before allegedly hitting Suozzi was, "I'm not showing the fucking white bitch the receipt."
After the confrontation, with her male companion dragging her away, Simmons allegedly told another witness "you going to get it, too."
Cianfrini said, "That's not a statement of someone who is acting in self defense. It's not the statement of someone who regrets what she did. It's the statement of somebody who knows fully what she did."
Outside of court, Nichols said the defense clearly has a different interpretation of events than Cianfrini and that she believes a jury will be able to fairly weigh the facts, even if the case appears racially charged.
"We have the video," Nichols said. "You can see the video for yourself. It's more an interpretation. Unfortunately there's no sound, but we can all kind of see on our own and infer what it depicts."
Nichols added, "I don't' really it (see race being a factor with the jury). Once anyone sees the video, white, black, Asian, whatever, you're going to get an interpretation leaving race out of it."
On the issue of whether count two of the indictment, the elder abuse law, is constitutional, Nichols argued that the way the statute is written would require a defendent to know the victim's age at the time of the assault. 
"I argue there's no way Ms. Simmons could have known, based on how the law is drafted, that this is a strict liability crime and the fact the legislature chose to draft it so poorly is a violation of the due process of this defendant and other defendents," Nichols said.
Cianfrini noted that another court -- though the decision is not binding on this court -- has already ruled the law is constitutional on the same grounds, but added that the court should not just look to the letter of the law, but the legislative intent. Cianfrini said legislative notes and history clearly indicates the legislature meant the law to apply any time a person more than 10 years younger hits a victim 65 years or older.
Noonan did not give a specific time when his written decision will be issued.
Simmons will go to trial Aug. 20. She turned down a plea offer that would have given Noonan the option of sentencing her to prison time up to three-and-a-half years in prison. If convicted at trial, Simmons could be sentenced up to eight years in prison.
July 31, 2012 - 9:09am
#12
So I guess to Peter's version of the way life is supposed to be... it's alright to make the elderly the targets of crime because in their old age they are easily victimized. I suppose elevating the crimes that are commited against children are also an example of the state's inequal treatment of people under the law.
As for hate crimes, you are aware that they just dont include race, they include the handicapped, the elderly, and pretty much any group of people so if someone got a bug up their a$$ over veterans of our recents conflicts and began hurting or killing them just because of that reason then they can be tried under the hate laws? I have to disagree though with you Gary while we all know lawyers uss some of these laws to twist the truth around (Which is where the true blame needs to be placed lawyers are the reason we need these type of laws) If you rob a bank Gary while spewing racial slurs, I as a jurist would see that as a hate crime, your gonna rob the bank anyway. But if you were to run arouns and shoot an wound or kill only the female patrons and workers of the bank while commiting the crime and bitching aabout women then I could see it fitting the crime. Remember you can hate all you want, that right isnt taken away but if you begin to target people based on that hate then it steps over the line and beomes actionable.
I know people fear this cause
1) Abuse of the justice system and it's laws by police and lawyers (look to the rochester police dept scandal currently going on 2 cops proven to have lied about stopping a person for not stopping at a stop sign. The a traffic cam proved her did in fact stop, even though he was arrested for drugs and weapon in the stop the judge threw it out cause of the lies)
2) Their own fear of their own ideas, honestly even good people have thoughts of racial hatred or hatred of feminists or even homosexuals, the one person you cant really lie to is yourself. If your arrested in a bar fight only you yourself know the real reasons that fight may have began. So people are paranoid that these feelings that are natural and understandable from time to time place them under this hate crime definition. Its ok its human nature to hate, it one of the things God tries to turn us away from. But acting out that hate by tyeing someone to a bumper of a car and driving off, or gang beating them for wearing a rainbow shirt. Hellway back when even the act of tarring and feathering someone because of their political views or party affiliation or their confederat or yankee status would be defined as a hate crime now.
I agree that the Govt shouldnt be doing this as Peter states on some principals. However people themselves have poven theres a need for this otherwise it wouldnt have gone through and become law. Watch what happens with Bloombergs attempt to legislate sugary drinks, it'll NEVER become a law as it oversteps the Govt's authority. Bllomberg has proven time and again that he is a moron who reacts instead of thinking things through. Look at his recent comments involving gun control that his lawyers made him retract/clarify.