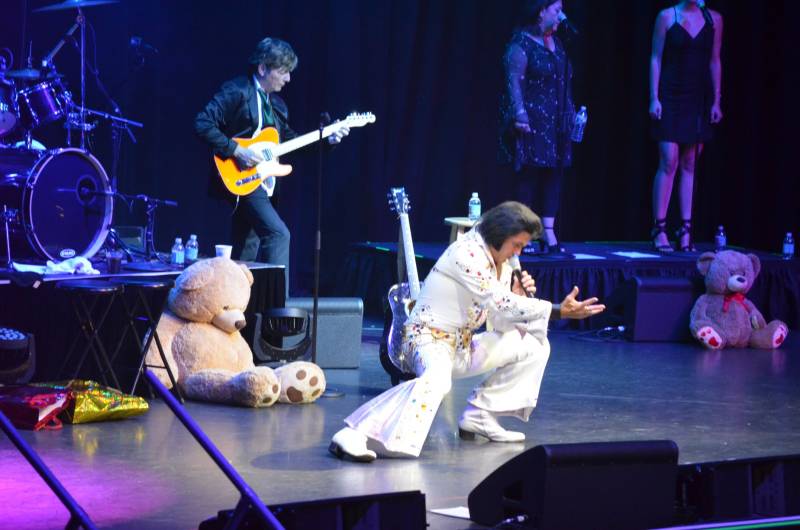 When you look like Elvis -- to the point that people have a tendency to stop you in the street unless you wear a bit of a disguise -- and can sing like the King, there's a natural path to take in life, especially if you're already living in the entertainment capital of the world.
That's the situation former singing bartender and Niagara Falls native Rick Alviti found himself in more than 20 years ago when his career as an Elvis impersonator started in Hollywood.
That life path brings him and his show, "That's the Way It Was," to Batavia Downs at 7 p.m. Sept. 9.
"I like the people I meet," said Alviti when asked what he enjoys about his career. "I meet the nicest people. They're always so kind to me.  When I'm out in stores or restaurants, people come up to me because I have this Elvis resemblance, and sometimes I wear a hat when I'm out, but when they come up to me, I always give them a card and invite them to a show. That's what I do for a living. 
"Meeting people, especially the people who love Elvis, is the best part. They're excited to meet because they love Elvis.  I'm fortunate to have that connection, and to me, that's a good thing."
After attending North Tonawanda High School, Alviti moved to Hollywood to pursue an acting career.  He landed a job at Dimples, a bar across from the NBC Studio that was a favorite entertainment industry hangout.  His gimmick was signing while he poured drinks, and already a huge Elvis Presley fan, he sang a lot of Elvis songs.  But Alviti had a beard, so nobody yet noticed his resemblance to Tupolo's most famous son.
He landed an acting job and had to cut his hair and shave his beard.  That's when, he said, everyone started calling him "Elvis."
He decided to get an agent and began getting serious about studying Elvis Presley's moves, watching his movies, and learning his songs. He got some gigs in Las Vegas and then the Las Vegas Convention and Visitors Authority sponsored him on a national tour.
After his parents moved to Myrtle Beach, he visited them knowing, too, that J.D. Sumner and the Stamps (Sumner was long associated with Presley), had a long-term residency at a theater in Myrtle Beach. That led to meeting the theater owner, and after Sumner's death, Alviti got an offer to set up an Elvis tribute show at the theater. 
That was a residency with a 12-piece band that lasted for years.
Doing two shows a day really helped him refine his Elvis impersonation, he said.
His career has led to shows all over the U.S. and several in Las Vegas, including at the Winn, the Mirage, and the Gold Coast. 
That's where he met the Jordinairs (once backup singers to Elvis), he said. They became friends, and he performed with them.  He's also performed with the Stamps.
He also played a birthday party for a playmate at Hugh Hefner's Playboy Mansion, where he met  Hefner, whom he said was a nice guy. He was provided one of the mansion's many bathrooms (he guessed 27) as a changing room but kept getting interrupted by people wanting to use it for "one of two things," as he put it.
As for acting, being Elvis has opened doors there, too.  He played in a production of "Joseph and the Amazing Technicolor Dreamcoat" and was cast as Elvis in episodes of "ER" and "One Tree Hill." He also played Elvis is a Rusty Wallace commercial for Miller Lite.
Alviti now splits time between Buffalo and South Carolina.  When he's in the northeast, he tours with a five-piece band of guys mostly based in and around New York City.  In South Carolina, he has another band, though when he's in the Nashville area, his band is led by the son of DJ Fontana (Presley's former drummer).
Tribute bands are a big deal now, but until Elvis impersonators, as they were called then, came along in the 1980s, musicians either played in cover bands or bands that played their own songs.
Impersonating some other act to the point of trying to sound exactly like that act and putting on their costumes was an industry waiting to be born.
"When I started out, there were maybe nine guys who did an Elvis tribute," Alviti said. "You had to look the part and sing the part and entertain the audience. Now there's probably 9,000 guys doing it."
He said it's probably for Elvis impersonators to get a start now, and a lot of guys doing it for "$200 and just to have fun. They just want to be Elvis for a bit.  What I do is a professional production." 
When he first started out, the Elvis Presley Estate was also much more concerned about Elvis impersonators, and he was contacted by representatives of Graceland.  He said he told them that he wasn't trying to convince people he was Elvis. He was performing as Rick Alviti.
"You're allowed to do a tribute to anybody. That's in law," Alviti said. 
When he was contacted, he said he told them, "I'm not saying I'm Elvis. I'm Rick Alviti. I happen to resemble him, but I'm not pretending to be Elvis."
He makes a point of calling his show "That's the Way It Was" without claiming to be Elvis Presley so he doesn't violate the estate's intellectual property rights. People who go to the show know they're seeing an Elvis tribute and not a substitute Elvis.
"Now. I think they've embraced tributes because it's helping keep the image alive," Alviti said.
He said his show is different from most Elvis tributes because it's interactive. He gets the audience involved.  He performs many of the songs it expects to hear, such as "Suspicious Minds" and "A Little Less Conversation," and his set can change on the fly.
"I try to gauge the audience," Alviti said. "If I'm doing too many ballads, I'll add in some faster things, stuff that gets everybody going.  I think I have a good sense of what the audience wants to hear."
While this show will be the "jumpsuit Elvis," he does do the "leather Elvis" at some of his appearances when the show includes an intermission.
"Elvis is great because there's four eras," Alviti said.  "There's the early Elvis, the movie-era Elvis, the leather-wearing comeback-era Elvis, and the Vegas years."
This will be Alviti's first appearance in Batavia.
"I invite everybody to come out and enjoy themselves," Alviti said. "We will have a wonderful time. That's what it's all about, making people happy and making sure everybody enjoys the music of Elvis."