August 4, 2013 - 6:13pm
Young man from Bergen killed in motorcycle accident in Le Roy, passenger seriously injured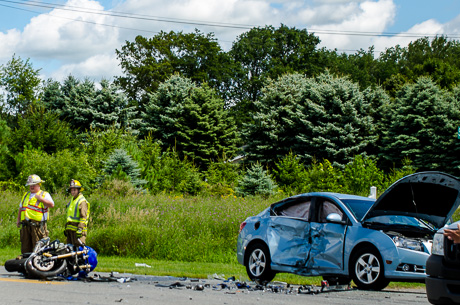 A 19-year-old resident of Bergen died today, and his 19-year-old friend was seriously injured when the motorcycle they were on slammed into a seden at the intersection of West Bergen Road and Selden Road, Le Roy.
Derek K. Sheldon was pronounced dead at the scene.
Ashley M. Stillwell was transported by Mercy Flight to Strong Memorial Hospital where she is listed in critical condition.
Sheldon was driving his 2005 Suzuki motorcycle north on West Bergen Road when a 2011 Chevorlet Cruze apparently made a left turn onto Selden Road from West Bergen Road.
The motorcycle hit the car on the passenger side and both Sheldon and Stillwell were ejected from the motor bike.
State Police said both Sheldon and Stillwell sustained multiple injuries.
The driver of the Cruze is identified as Marilyn A. Brassie, 50, of Bergen. She was uninjured but clearly distraught following the accident.
No further details about the crash have been released, which remains under investigation. No charges have been filed pending completion of the investigation.
Sheldon's Facebook page quickly filled with messages from grieving friends this afternoon. According to the page, Sheldon worked for MY T Acres and Triple P Farms.
The NYSP Collision Reconstruction Team responded to the accident.
The Sheriff's Office, Le Roy Fire andLe Roy Ambulance assisted at the scene.
August 5, 2013 - 8:55am
#9
I can tell none of you are pleased with chris's wording but I understand what he is saying. Wendy actually gave the most crucial information. The bike and car were heading towards each other on West Bergen Road which means neither had a stop sign at this intersection (referencing Wendy's comment). Also oncoming traffic has the right of way over someone making a left hand turn. That is a basic road law in New York State (section 1141 under the right of way). I believe what Chris was trying to say is that the car turned in front of the bike at its most basic level which means she either did not give herself enough time to turn without risk of collision or she may not have seen the bike for a variety of reasons (sun glare, blind spot, etc) IF the bike was speeding then yes it would have contributed to the accident. But again I think Chris was simply referring to the idea that a left turning vehicle must yield to all oncoming traffic and that if the car did not yield it would be at fault. Again, we do not know the conditions yet though so no one can say you are right or you are wrong. I would agree with the idea that there are small details we need to know before we accuse anyone of manslaughter. I did collision work on motorcycles and cars for 5 years of my career. Typically the insurance sides with the driver who had the right of way given no other factors were involved (alcohol, speed, blind spots, sun glare, etc) looking at the photo the car was t boned in the center so for whatever reason whether it was speed, distance or something else the motorcycle could not avoid the collision. My prayers go out to the family of everyone (including the driver of the car) involved. I lost my fiance in 2007 to a motorcycle accident 3 months before my wedding. The loss is devastating and I cannot imagine how the driver of the vehicle feels knowing she was involved in an accident that claimed a life-regardless of whether anyone was at fault. As a community we should focus more on the impact that events like this have on the individuals and families involved and less on attacking each other on here.