April 20, 2015 - 4:32pm
It's National Crime Victims' Rights Week
National Crime Victims' Rights Week kicked off this morning at Genesee Community College with a ceremonial flag raising and a speech by Lt .Gov. Kathy Hochul.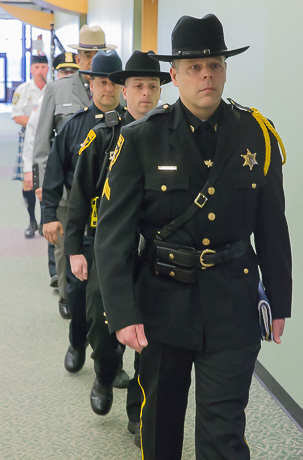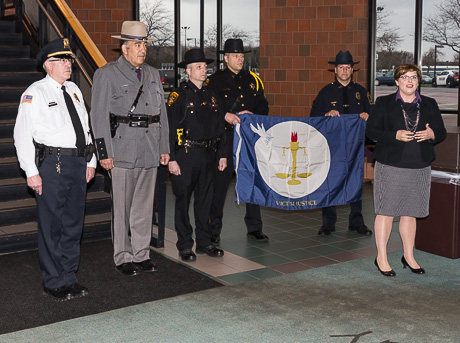 All local law enforcement, the FBI and Genesee County Mental Health Association, were in attendance today to spread awareness of the rights of crime victims. Specifically their focus was on educating the community about the protection of young adults and preventing them from becoming victims. The keynote speaker was Special Agent Steve Miller of the FBI. His education speech was on social media and how it is used for cyber-bullying, sexual predators and other dangers.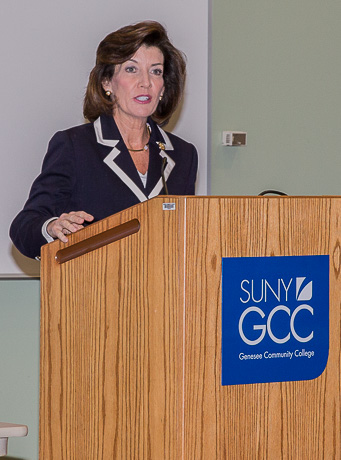 Hochul began her speech this morning by asking for a moment of silence for the victims of the Oklahoma bombing 20 years ago. She went on to mention a few new initiatives by the state relative to crime victims. First she mentioned how seriously Governor Cuomo is taking sexual assault on campus at colleges. She said thinking needs to be changed to recognize sexual assault on campus as a crime and the Governor's office has made this a top priority.
The next topic was an announcement that crime victims can now ask the state for financial assistance online. This online access is meant to make applying for aid less stressful and simpler than before. The financial assistance is meant to help with medical bills, lost wages, moving expenses and other financial needs stemming from being victimized.
In 2014 8,300 crime victims were paid more than $20 million in compensation. The funding for this financial relief and program comes form the fines levied against offenders. For more information about this financial program please visit www.ovs.ny.gov or call 1-800-247-8035
As the week continues, two more meetings are open to all to attend:
Wednesday, April 22, 6 to 8:30 p.m.
Stewards of Children Child Sexual Abuse
Prevention Training
YWCA, 301 North St., Batavia
Call Theresa at 585-344-0516, ext. 111, for information.
Friday, April 24, 5:30 p.m.
Ceremonial Walk and Reception
Old County Courthouse
Corner of routes 5 and 63.