August 9, 2017 - 9:35am
T.F. Brown's snags championship in men's softball at Kibbe Park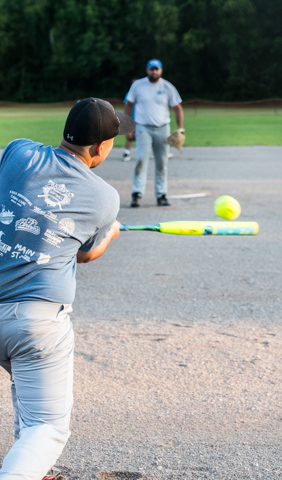 Photos by Jim Burns.
Write up by Mike Jamil:
A beautiful night finally for softball at Kibbe Park.

Number 6 seed TF Brown's Commissioner's Crew three-peats, pulling off the upset, defeating #4 seeded home team Fava Brothers Lawn Care 14-11.

Fava Brothers Lawn Care had won the two prior matchups (both regular season) but choked away the championship honors in the third contest.

The losing team did receive a participation trophy that states "Congratulations On Another Failed Season," since we're not so worried about soft feelings in The New Batavia Softball League. At least I'm personally not. Play better or you're eliminated. No hedge/handicap here.

The gag gift participation trophy wasn't all they got. They got two complimentary cans of corn as well, which was a symbol representing their crunch time hitting. So they did not go home empty-handed.

Very worthy opponents and lots of absolutely great people on that Fava Brothers team.

Lots of friendly bragging rights needed.

Everybody contributed and played their role for the winning team. Everybody was important and needed.

Members of the championship team TF Brown's Commissioner's Crew are Captain Mike Jamil, Keith Oklevitch, Austin Oklevitch, Chris Densmore, Alex Jarvela, Justin Cooper, Dan Dioguardi, Stefan Krna, Keith Hammond, and Koko Irvin. Ronnie Sumeriski, the normal left fielder, and Michael Greene the normal right fielder, were unable to make it to the big game but were assets all season long as well as the first night of the playoffs.

Forced the commissioner to play defense which can be a very bad idea at times. Very gritty, clutch bunch.

That concludes the 2017 Thursday Batavia Men's Spring/Summer Softball League. Was a great group of people from the teams top to bottom. Very evenly matched. We don't care to be like other leagues. We're Batavia Softball. Signing off.