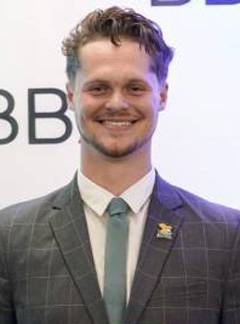 Sports broadcasters need to be versatile and flexible, which are exactly the criteria for getting recognition by the Jim Nantz Awards, and former Batavia High School Student Griffin Della Penna demonstrated he has those skills to the judges this year.
The Sportscasters Talent Agency of America, which hands out the Nantz awards annually to call attention to the nation's best collegiate sportscasters, recognized Della Penna with an honorable mention.
"I knew that I should be up there," Della Penna stated. "To get that recognition, I thought was really cool. It's something that I want to go and just prove that I'm better than [honorable mention.]" 
Competitors must send in a highlight reel, around 20 minutes, that showcases different skill sets, such as the ability to call different games in different sports. Competitors must also showcase their ability to interview and be comfortable on camera. 
Della Penna began his collegiate career in his junior year while attending Canisius College. Della Penna called roughly 106 ESPN+ broadcasts his senior year and roughly 142 games total across 20 different sports. He recalls that some of his favorite memories were calling games in which his friends were playing. 
"I get to cover my friends," Della Penna shared. "These are people I've gotten to know since I stepped foot on campus. Getting to cover my best friends on the baseball team … I don't think that there's many kids in the country who get to have that dynamic and have those memories."
Looking ahead, Della Penna's goal is to call great games at his graduate school, Syracuse. He hopes to eventually call some of the biggest games in the country.
"I feel like [Syracuse] will speed along the process of my career. I would love to stay in baseball, and eventually, I want to get to the national level."