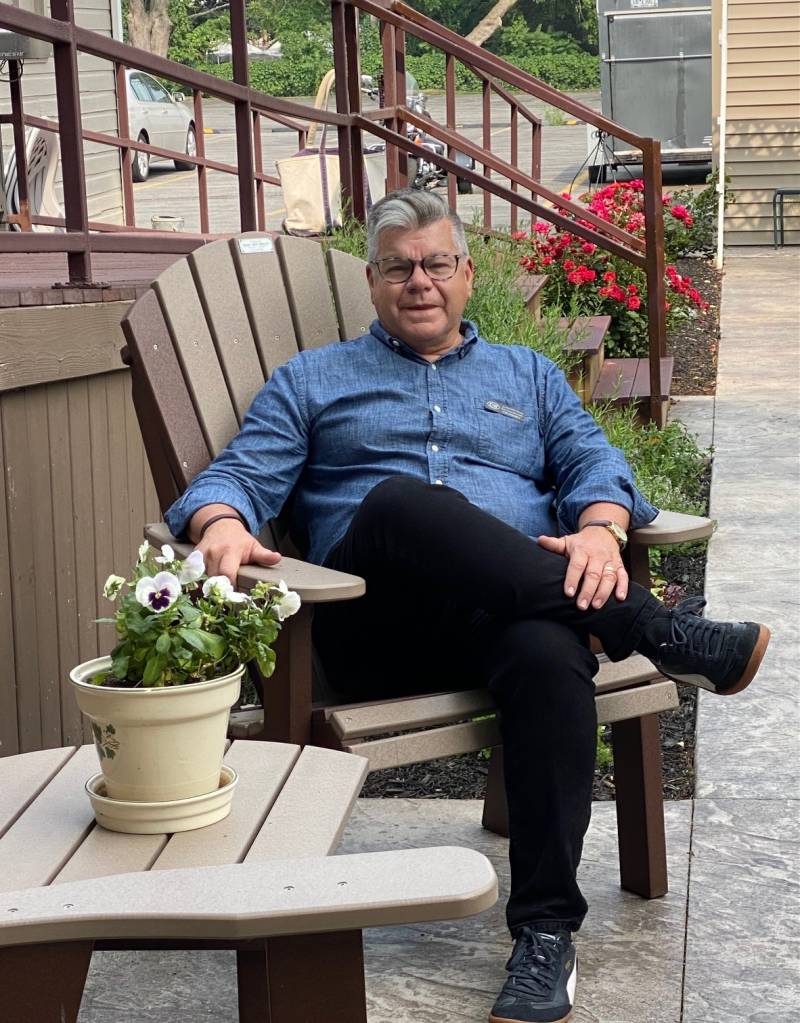 Sometimes the title of being a best-kept secret isn't all it's cracked up to be. While it may sound like a clever marketing ploy, it still leaves something to be desired: more knowledge about your establishment.
That's exactly why interim Executive Director Tom Staebell wants to ditch the soft tagline for Crossroads House. Enough of the comfort care home being Genesee County's prized little-known service. He wants it known far and wide.
"And so my goal is to make sure that it's not the best-kept secret in the county. So we're really reaching out now to the community, we hired a new volunteer coordinator that's going to be able to get out into the community more," he said during an interview with The Batavian at the house. "And just getting the word out there is one of our biggest things."
For an interim, this is perhaps an unusually vocal role of articulately expressed goals and a vision for the Liberty Street site to not only embrace its two residents and their families during their stay but to also, at some point, carry the philosophy of Crossroads into other facilities with an end of life doula program.
After years of placing folks on a waiting list, staff has decided to train prospective doulas that can go to residential and nursing homes to work with people in their final moments of life.
Staebell is a trained doula and Crossroads volunteer, as well as a former board member, which is where he began his journey with the nonprofit. He was amply experienced on the topic of loss, as his wife died in 1994, and then both of his parents, mom Irene in 2017 and then his father Andy in 2020, died at home, requiring additional care.
"It was that caring process that drew me into doing work here," he said. "You know, this is the philosophy here; everyone should have a good death. And that sounds kind of strange when you say that. But our mission here is that you're living until you take your last breath. And we'll do everything to help support the family and the resident here in making that a good death.
"And that involves all the different areas, like emotional, the social component, physical, you know, pain management is a really important part of our work here. And spiritual, kind of meeting the families and the resident where they're at," he said. "Some people come in, and they're still in denial, but meeting them at that place, and letting the process develop, and unweave all the intricacies of the death process for them. Education is one of the biggest pieces that we do here."
As much as staff — which is small due to financial constraints, and volunteers, which are dozens of caring, trained and dedicated community members — do with residents at the house, there's an overall effort to get the word out about what the organization does and what the philosophy is all about. 
People don't go to Crossroads House to die; they go there to live out the remaining time they have left with dignity, laughter, tears, oftentimes some type of familial or spiritual closure, and maybe a treat or two from the kitchen.
Within all of Genesee County, there are only three beds available to someone at the end of life, and two of them are at Crossroads House.
"And so, we really want to make sure the word is out there … One of the biggest goals, as you probably know, is that we're self-funding here. We don't get any insurance or health insurance coverage. We don't get any support from the state or federal government. And so all of our funding is through donations, memorials, business appeals or getting community appeals, our fundraising events, and, you know, memorials that people will give to us after the person has died," he said. "So that's one of our biggest things, and looking at it from my point of view as being the new interim director here is to really make sure that the annual campaign, that we do it really, really well, and, and get out there in the community and let them know we're here and what we need from them."
Another goal is to make sure that families and residents know that "we're part of their family," he said. He cited the example of a woman's daughter who came from Florida to stay at the house, and Staebell made sure she didn't feel alone, even though she left her family down south while staying with her mom.
"I told her now you have a family," he said. "She's going to be loved, cared for and taken care of."
Staebell filled the gap left by former director Charlotte Crawford in March, and he has the full backing of the board, President Steven Johnson said. Staebell's goals are mutually the board's goals to increase public awareness and education, ramp up the annual campaign and initiate the end-of-life doula program with a newly received grant specifically for that purpose, Johnson said.
"One of the visions we have is that we'll provide doulas working with Hospice with their training program for families that have no place to go," Staebell said. "It lets you be the wife, the daughter, (the family member) instead of the caregiver."
He's excited to be over the hurdle of the house's 25th anniversary and looking forward to "another 25 years with a strong strategic plan that will take us into the future by building relationships." Staebell's professional relationships have been in education for 33 years before he retired as an elementary principal at the Pembroke, West Seneca and New York City school districts.
He has been a Crossroads House volunteer for seven years, providing resident care and serving as an end-of-life doula and grief peer support facilitator. 
He and husband Mark, live in Pembroke and have five children and nine grandchildren between them. They enjoy the theater, Philharmonic, and sometimes "doing nothing at all."
For those interested in learning more, there will be a Chamber of Commerce after-hours garden party later this month. It runs from 5 to 7 p.m. July 13 and will include some informal talks from volunteers and staff and a tour of the site at 11 Liberty St., Batavia.
A neat part about this event is that products from local businesses will be served.
"We want to support the businesses that support us," Staebell said. "It's a gift to the community made possible by the community."
For more information about the garden party, end-of-life doula program or Crossroads House, call (585) 343-3892.