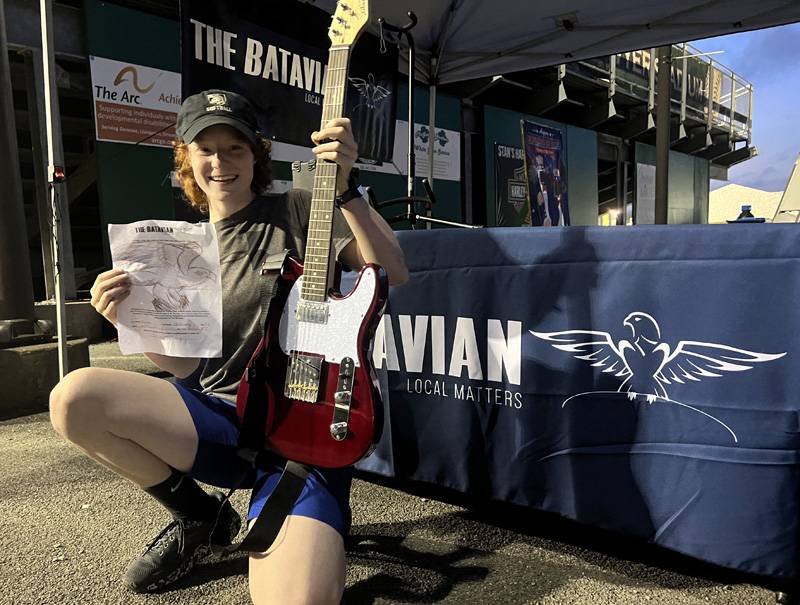 The Batavian was out in full force Monday during the Batavia Muckdogs game, both in our coverage with a freelance photographer and with staff at a booth set up near the entrance at Dwyer Stadium.
Our presence in public has not usually been a luxury we could afford: staff's time has been precious and usually spent on the day-to-day tasks at hand, whether it be dealing with advertising needs, covering and reporting the news or the arduous billing and financial duties of a publisher.
But we've had a change of heart, attitude, focus and business model, and want to:
1. Make the time when possible to get out into the community to meet folks and let you know that we are your local news here to make a difference in Genesee County;
2. Introduce the Early Access Pass program that is twofold in that it allows you to access all of the news that we provide the very minute that we publish it without having to wait the four-hour hold time for non-Early Access members, and makes you, as a supporter helps us hire more reporters to go out and cover even more local news stories; and
3. Encourage creativity and positivity in the community by sponsoring a guitar giveaway with an art contest. During the Muckdogs game, all we asked was for people — kids and adults alike — to draw their best version of an eagle!
The Batavian's logo incorporates the eagle from one of Batavia's most iconic symbols on The Upton Monument at the merging of routes 5 and 63. So we thought it only fitting to use an eagle — also long used as a patriotic symbol of the United States and freedom — for our contest.
As many people walked by, asking about the red electric guitar poised on a table at our booth, they couldn't believe that all they had to do was draw an eagle to enter. Some asked how much it was to enter, and several people shied away, claiming, "I can't draw."
Others, however, took the task quite seriously. They went at it with gusto, first deliberating how their eagle would look, and what colors they'd choose. No two eagles looked the same out of the 40 or so submissions.
Some perched looking forward, others looking sideways, with outstretched wings, or wings at their sides, while flying, or remaining idle. Some artists added embellishments of cool blue water beneath and puffy white clouds alongside their wings. Some had stunning details, while others rested in sufficient modesty.
So why a guitar giveaway? That was the idea of Publisher Howard Owens. If you know him at all, you also know his passion for music, and especially for playing guitar.  
"I  get a thrill out of seeing kids get excited about the possibility of winning a guitar," Owens says,  "and then to see the happiness of the young person who actually won makes the price of the guitar seem all worth it."
"I love music.  I always have.  When I was a child, I begged my mother for a guitar, but my parents, when I was a child, struggled financially like a lot of young parents," he said. "Guitars back then were either expensive or just no good.  I didn't get my first guitar until I was 14.
"I now understand that music can be a great path for people. It isn't just about becoming a rock star.  There are lots of ways music can enrich a person's life, even as a career, without being the star on stage," he said. "So with that background, I want to use the opportunity I have as publisher of The Batavian to encourage people, especially kids, to turn to music.  More music will help make our world better."
Don't just take Owens' word for about how important music can be to one's life. Paul Draper, who is a busy local musician and lead organizer of the popular annual Ramble music event in Batavia, comes from a very musical family, "where almost everybody played and if they didn't play, they sang."
"It was part of my family's culture.," he said, recalling his first instrument was not an expensive piece. "I remember the first instrument I picked up was an old hand-me-down Yamaha keyboard that my mom bought from one of her friends for $50. Up to that point in my life, I had no real musical ability, but I absolutely loved music. I would sit in my room for hours, just tinkering with the keys and finding little melodies.  Eventually, I was able to make some chords and put them together."
His older sister, Amanda Draper, an accomplished singer and guitar player, noticed that he was starting to pick up on some things and allowed her brother to play backup for her in the family's basement "studio," he said.
"It was all downhill from there. From that point, I've played in numerous bands, hosted big events, traveled all over, met some amazing people, and it all started from a $50 hand-me-down keyboard," Paul Draper said. "So for me, seeing the people behind The Batavian supporting the arts (as they have) and now donating equipment to help young starry-eyed dreamers begin their journey is just amazing. Because I know how far something like this can take a person." 
The Muckdogs game was the second guitar giveaway, completely financed by Owens, with the first one being an acoustic guitar at a Just Kings-sponsored Juneteenth event a few weeks ago in Batavia. Win or lose, The Batavian sincerely hopes that each aspiring musician keeps on finding a way to make music in the community.