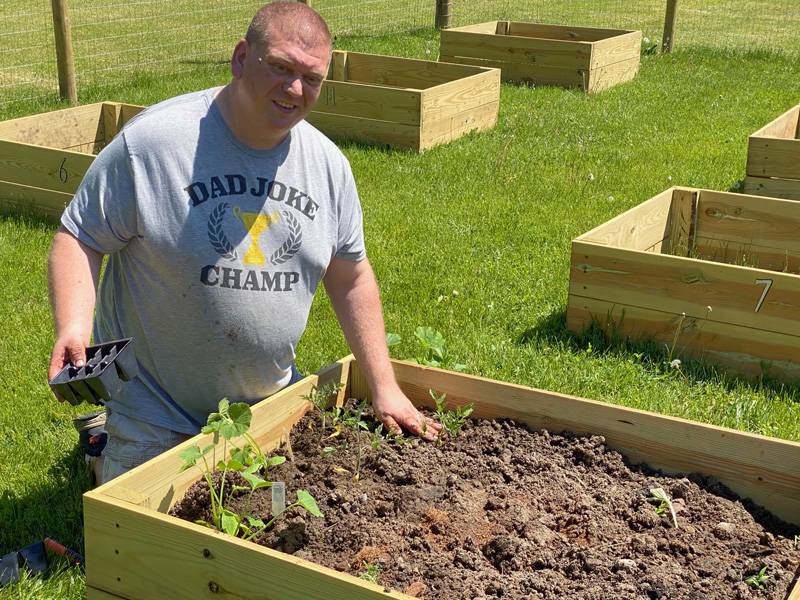 As Memorial Day weekend was creeping closer on Friday, Rev. Tom Tharp was already getting his fill of fresh air and sunshine.
No, he wasn't prepping the grill for a weekend barbecue or mowing the grass to host picnic guests. Rather, Tharp, leader of Emmanuel Baptist Church in Batavia, was up to his elbows in coconut chips, mixing them with water to combine with soil for garden plots behind the Oak Street church.
What prompted the church to build its own community garden?
"We were building it because they were housing all of the homeless population in the town of these two hotels over here. But then that didn't really work out. The hotels were condemned and shut down … but we still thought that there was a need, that the community is nearby the neighborhood, especially down Gateway, Noonan, etc., Oak Street, that people might want to partake of growing their own food," Tharp said. "And we might meet some of the additional costs that are coming up, over and over, at the grocery stores. It's not like we can provide eggs, though. But the good thing, the price of those has gone down."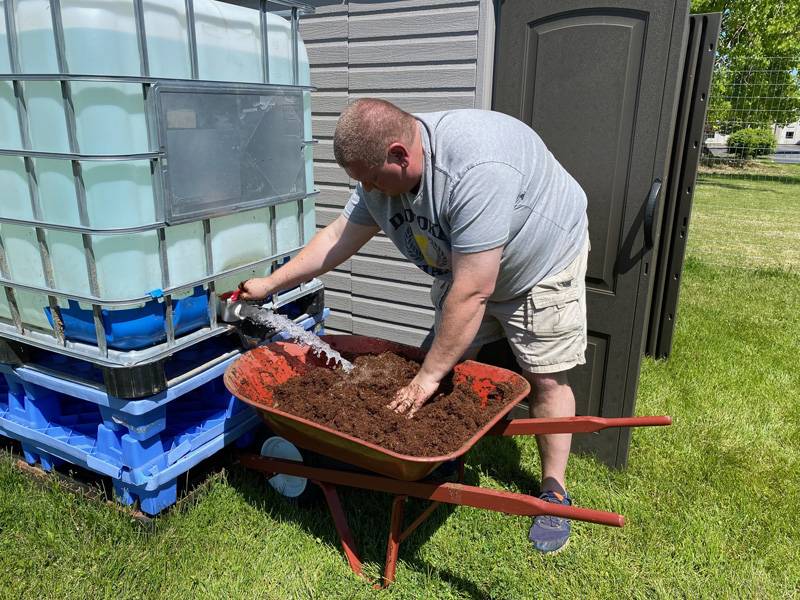 Thanks to a grant and donations of goods and volunteer time, there are 20 garden plots, soil for planting, a 1,000-gallon water tank, donated by Norton Dairy, assorted vegetable seeds, and tools for people to use. The garden is protected by a locked fence, and anyone who buys a plot will receive a key for 24/7 access.
There wasn't going to be a charge for those that filled a garden plot themselves. However, no one showed up Friday to do that, Tharp said, so he was spending his Friday filling the boxes and testing his own green thumb abilities (he claimed not to have any) by putting in roma tomato plants for a couple of his wife's plots.
People have so far reserved 11 plots, which means that nine remain available for purchase. They are $20 each. Everything is included, such as seeds for tomatoes, cucumbers, squash, peas, different kinds of peppers and other veggies, water, soil and a periodic lesson on gardening how-tos.
"At least you'd be able to get enough for a family, if you have the means of, you know, freezing the stuff and then keeping it for a while. I am not a natural gardener. So I don't know exactly how much we'll get out of this," he said. "We have some people from the church coming out who are going to be planting, and some people in the church who are just donating plants from their gardens to put in. And if we have stuff that doesn't get used, it will go to a local food pantry."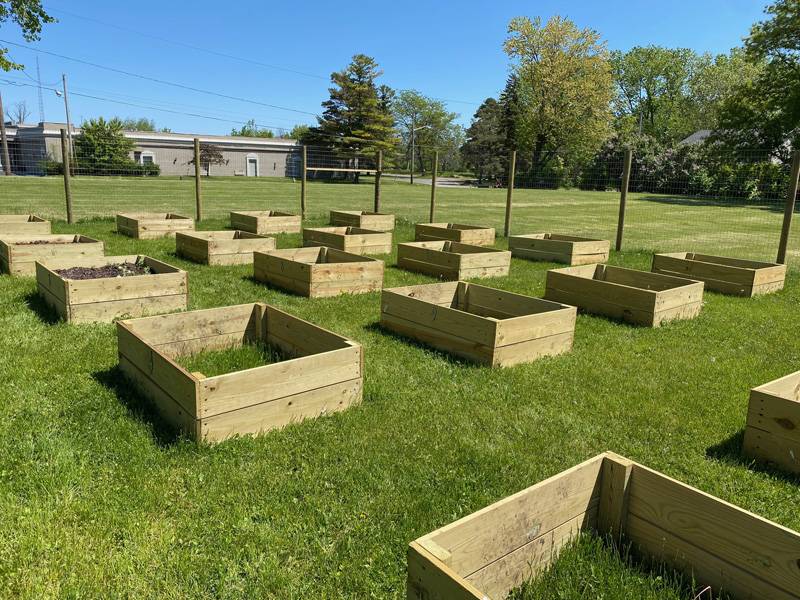 There's certainly plenty of space for the garden, with about six acres behind the church. Parishioners — church membership is about 45 people — at one point wanted to revamp the softball field so they could begin a softball league during COVID.
The church received a grant, and there was interest, but, because it was COVID — they couldn't get any contractors to do the work, Tharp said. So they had to return the grant and moved on to another project. "It would have been nice," he said. "We've got the space, and we want to use it."
For now, though, there is the community garden, and anyone may participate.
"If you have even the slightest bit of green thumb, you can come out and pretty much grow your own vegetables for free here," Tharp said. "We've got everything that you need to get started. And we'd love to have you."
 For more information, or to reserve your plot, call 585-343-4905.