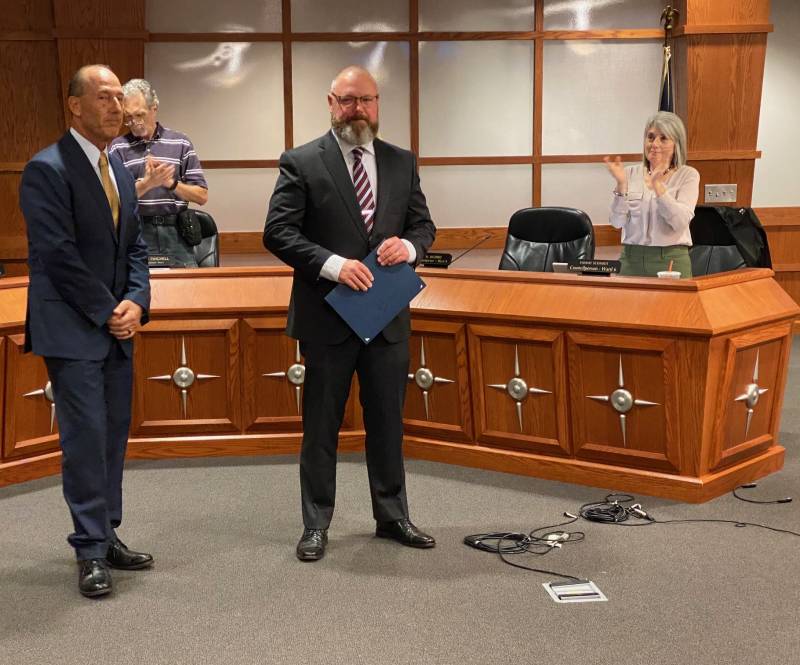 With several of his uniformed colleagues seated nearby, Batavia Police Detective Thaddeus "Thad" Mart was honored for his 17 years as a police officer, sergeant and lastly as a detective with the city department during the City Council's conference session Monday evening.
Council President Eugene Jankowski read a proclamation listing the retiring Mart's experience, which included serving as an operations specialist E-5 in the U.S. Navy and a border patrol agent at the U.S.-Mexican border.
He then began his local career in Batavia in August 2006 as a Batavia Police officer, distinguishing himself as a field training officer, general topics instructor, serving as a department liaison to the Veterans Treatment Court and as a crisis negotiator, the proclamation states. 
He was promoted to sergeant before becoming a detective in 2013, during which time he assisted in many high-profile investigations and became certified as a polygraph examiner. Mart has been part of investigations with everything from bank robbery and stabbings to burglaries, sex abuse by a teacher and murder.
Mart has been recognized for his "outstanding police work by multiple agencies citing his professionalism, attention to detail and steadfast approach," Jankowski said, reading from the proclamation.
"He served his country, his community and the department with honor and dedication, and his approach to investigations was methodical and unrelenting. He demonstrated professionalism and courage, and he has been an outstanding trainer to many officers," Jankowski said. "He has never sought out the spotlight but has worked tirelessly to keep the community safe by thoroughly investigating every crime and call for service he was assigned."
So it was in a "true spirit of appreciation for 17 years of dedicated service" to the city,  that City Council drafted and presented the proclamation, Jankowski said, as a way to sincerely thank Mart for his unwavering service to the community and to wish him well in retirement. 
In turn, Mart was "proud and thankful" for having had the career and honor to serve the people of Batavia, he said, and the opportunity to "work with all these officers over the years."