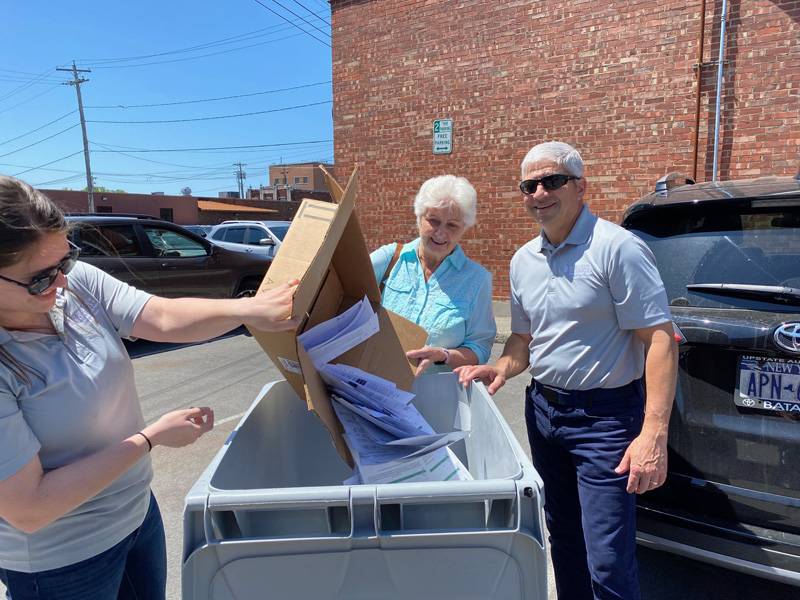 Mary Tucker was packed and ready to leave her house with some important items Friday.
She had some 2017 pay stubs and insurance documents in a box. Just as she was heading out, her husband asked if she could grab some of his paperwork and take that as well.
"I said that I was all ready to go. I told him no," Tucker said at the annual Shred Day event downtown. "This is wonderful."
Hosted by Brighton Securities, this was the 12th yearly event to take in people's old documents and securely shred them to eliminate any opportunities for identity theft.
There were about a dozen Brighton Securities employees helping to unload boxes and bags of papers — taxes, junk mail, receipts, personal and professional documents deemed obsolete by folks, you name it — and feed them into the shredding truck.
There was even a video camera and screen so that people could view their items being shredded in the moment to know that stuff is actually gone.
What began as a courtesy to customers that first year has blossomed into a free yearly event for a busy line of vehicles, branch manager Steve Hicks said. The event was scheduled from noon to 2 p.m.
"It has grown every year," he said, as staff members encouraged visitors to grab a bottle of water on their way out. "And now people are so concerned with security, and cybersecurity. It has been nonstop. They started coming at 11:40, and we may even extend it an hour or two."