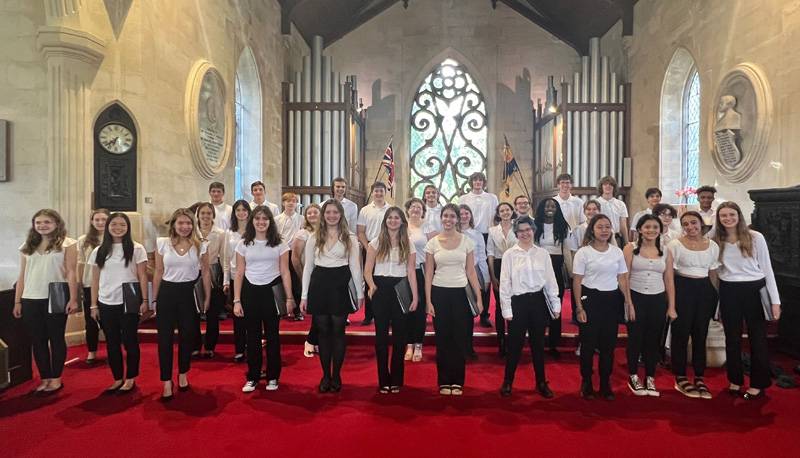 The Knox Youth Choir, one of eight choirs of Westminster Presbyterian Church in Dayton, Ohio, will be taking an eight-day concert tour of the Northeast, including a pit stop at Batavia First Presbyterian Church.
A spiritual version of dinner and a show will feature picnic fare of hamburgers, cheeseburgers, hotdogs, salads, and fruit at 6 p.m., followed by a choir concert at 7 p.m. on June 14 at the church, 300 East Main St., Batavia.
Unlike many churches that serve up gospel with singing, Westminster is the birthplace of Westminster Choir College, and as such, is a music-based church, Nancy Hodgkins said.  Westminster Choir College is a historic conservatory of music currently operating on the campus of Rider University in Lawrenceville, NJ.
"And so we've always had this big tradition of music. It's the one thing you can do from the time you were four years old until you can no longer climb the stairs to the planet. So we have three children's choirs. We have the youth choir that will be coming into Batavia. And then we have an adult choir. And we also have three Bell choirs. And we started doing choir trips. Well, in 2002, I took the kids to Scotland for a Presbyterian Heritage tour. We had a fantastic experience, except we were just tourists; all we did was get on and off the bus," Hodgkins said during an interview with The Batavian. "And I really wanted the kids to have an opportunity to meet people and to interact with people. And so in 2007, we returned to Scotland as a choir … we had quite a trip. And we sang in three small churches in Scotland and had a fantastic experience."
With the title of associate pastor for youth and mission, it could go either way how involved Hodgkins is with the musical lessons. Turns out not at all. Admittedly, she's "not very musical," which, given the atmosphere, steeped in staffs, scores, g clefs, tone, range, crescendos, intonation and performance space reliant on acoustics, it seems kind of ironic.
"I can hardly carry a tune in a bucket," she joked. "But yet they still let me work here, which is a blessing because all my other colleagues are beautiful vocalists. And it's been a great partnership. I basically manage the trip, plan the trip, handle, you know, all the group dynamics and logistics, and (Rev. John Neely, associate pastor for music), and the rest of the music staff help them sing beautifully. So we'll also be traveling with our music associates, who will be the primary accompanists."
The choir will be performing a wide variety of gospel-based songs, from the familiar and traditional to others from around the globe and a medley from "Joseph and the Amazing Technicolor Dreamcoat."
Hodgkins and Rev. Roula Alkhouri went to seminary together and have maintained a friendship for these visits, which happened once before. There was a larger group here for a community service project, and "it was really too hard to find ways to engage all of us in a meaningful way," Hodgkins said, "so we kind of dropped that piece."
"But we'll be doing some sight-seeing, we'll go to Niagara Falls and are doing some local sites; they're mostly churches that we have some sort of personal relationship with," she said. "So we have some of these personal connections to these churches, but I really like the kids to see churches that are different sizes, have different traditions and experiences that they do here at Westminster. The churches have been very generous, and they're welcoming of the kids and supportive of the kids. Really, music is a huge part of their faith."
Kids will spend from three to five hours together each Sunday for choir rehearsal and dinner youth group, plus perhaps some bell-ringing. One of the big things that helped the group was the church's willingness to support its Scotland trip last year, Hodgkins said.
"Everything just kind of lined up; we were able to, by the time we traveled last summer, they lifted all the restrictions. We did still sing with masks, but we were able to visit these little churches in Scotland, and because we had something to work towards, the kids really came back strong. Families came back strong last year," she said. "And then we decided to go to the Northeast again this year because, well, one, it was time because we've got kids who will graduate who hadn't had a Northeast experience. So this was the time to go. But also just to really help them to continue to regain the repertoire."
As much as the kids use their vocal skills in the choir, most don't pursue musical majors beyond that, she said. Only two that she knew of were singing in choirs at college. Hodgkins credited her colleague, Rev. John Neely, for his ability of "blending their voices together" rather than strictly focusing on auditions and rehearsals for an end product.
"John works really hard at making sure it's a fun experience for them, that we are sort of focusing on the words and the sharing of the gospel in music, she said. "I guess because it's more about community and fellowship and sharing an experience of God and music than a shiny, perfect performance."
The Northeast tour is designed to help smaller communities enjoy an evening of diverse music and to help and support the ministry of the churches they visit, Alkhouri said.
Dinner and the concert are free, and registration is recommended. Call 585-343-0505 or email [email protected].