April 24, 2014 - 8:30am
Adventure Calls Outfitters offers a unique & different view of Genesee River Gorge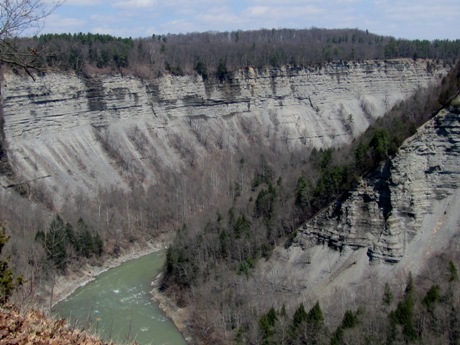 Every year thousands of people flock to Letchworth State Park and of course all who come to the park want a look into the Genesee River Gorge, the Grand Canyon of the East. Among the sights in the gorge, several hundred feet below on the river's surface, are what appear to be blips of white. Those blips are waves of white water and all but unnoticed against a panoramic vista from the overlooks. There, high above the river, they appear somewhat obscure, maybe even miniscule -- unless you maneuver over and through those waves via raft or kayak. And only then will you get a real sense of what the Genesee River Gorge is all about.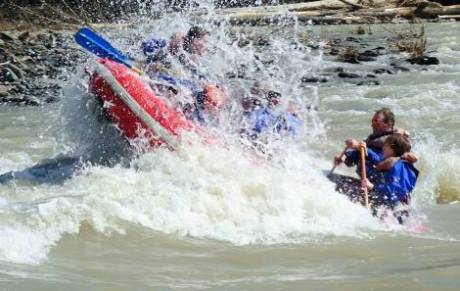 Might anyone be interested in seeing the gorge from below, Adventure Calls Outfitters is ready to accommodate. Not only is there an opportunity to view the gorge from the "bottom up," one gets to take a thrilling ride at the same time.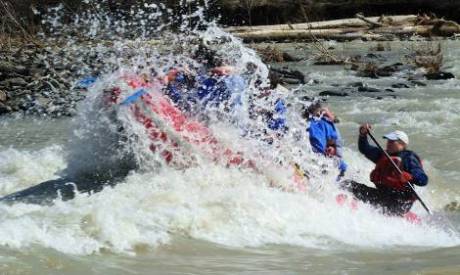 The accompanying whitewater pics, courtesy of the folks at ACO, were taken during the first two weekends of the rafting season on April 12th, 13th and 19th. With snowmelt and spring runoff in high gear, now is the optimum time for a wild ride with Western New York's premier river runners.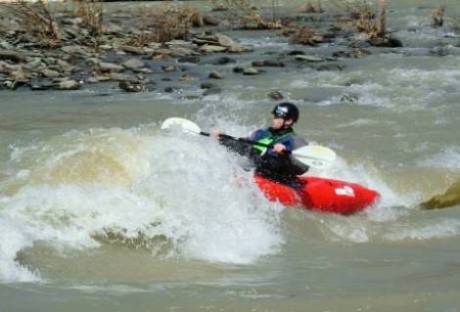 Adventure Calls Outfitters is owned and operated by Stafford resident Kevin Kretschmer who has spent 32 years as a whitewater guide on the Genesee River Gorge, the Salmon River up at Pulaski and Cattaraugus Creek through Zoar Valley. He has been the owner of ACO for the past 16 years.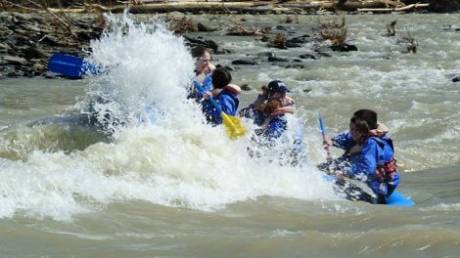 ACO has a large contingent of skilled guides on hand, each of whom love their work and enjoy nothing better than taking customers through some smashing whitewater.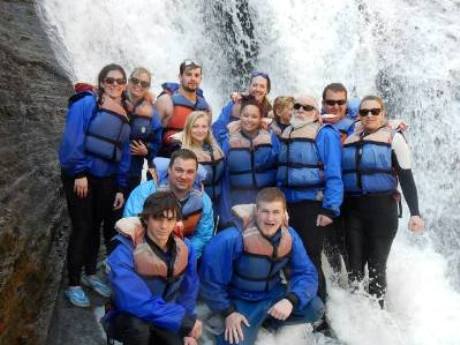 Midway through every trip, groups stop for pictures at the base of Wolf Creek Waterfall. Here guests have the opportunity to take the "leap of faith" -- a plunge into a hole beneath the falls. Not to worry, no one's ever been lost taking the leap of faith.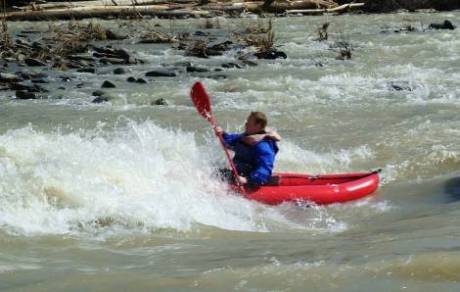 The user-friendly and highly maneuverable inflatable kayak...aka  funyak!      
Riding a wave train along the wall. Is this stuff thrilling? Invigorating?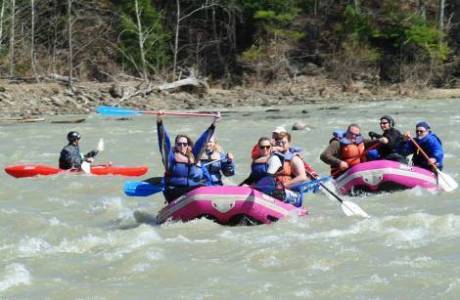 You bet it is! BOOYAH!
The ACO rafting season is just getting under way. The season on Cattaraugus Creek runs from April though June. Release dates for the Salmon River are July 5th, 6th, 19th and 20th and Aug. 2nd and 3rd. While rafting is their mainstay, Adventure Calls Outfitters offers a variety of packages and events throughout the season. Check out their Web site at http://www.adventure-calls.com/rafting_letchworth.html
April 24, 2014 - 9:14am
#3
My husband, friends and I all LOVE rafting with Adventure Calls Outfitters! My father used to also be a guide for them back in the day. When I co-advised the Outdoor Adventure Club at GCC, we used to take the students on two rafting trips a year at Letchworth with ACO! My favorite part is the "leap of faith" and getting to see the gorge from a different perspective - it's just amazing!!
If you haven't gone rafting at Letchworth, or at any other river with ACO, you are truly missing out! It is very affordable and an exciting experience! They have great gift certificate specials over the holidays (such as 50% off!!) and they also have discounts through Groupon.
I love ACO! They are a GREAT and FUN group!
:)