April 29, 2013 - 9:54am
An evening with Phil Robertson: a glimpse into the life of the Duck Dynasty patriarch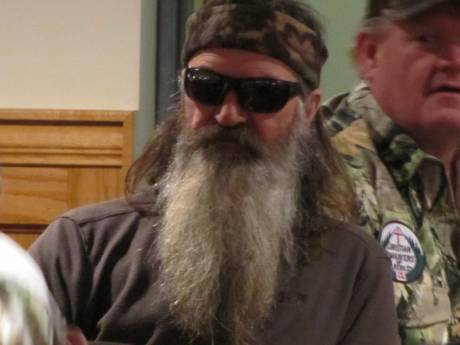 For those who tune in regularly to the hit cable television show "Duck Dynasty," Phil Robertson is easily recognizable as the patriarch of a bearded clan of Louisiana woodsmen, including his sons, Jase, Willie, Jep and zany Uncle Si. 
Robertson paid a visit to Western New York last Saturday night for an event sponsored by the Bow Bending Believers, a group of Christian archers based in Medina with a number of Genesee County residents among its ranks. Bow Bending Believers is a branch of the Christian Bowhunters of America. As a large turnout was expected, Ridgeway Baptist Church provided the use of its sanctuary for the evening and upwards of 800 people came to hear Phil Robertson's message.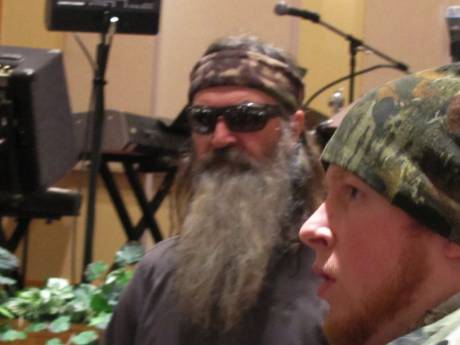 During the meet-and-greet segment of the evening (that's Josh Harloff, of Oakfield, with Phil Robertson) two large screens on either side of the stage displayed videos of the Duck Dynasty clan doing what they do best -- hunting ducks amid the flooded timber of Louisiana's bayou. The video repeatedly depicted Phil, Jase, Willie and Si Robertson hunkered down and scanning the sky, then working the duck calls which made Duck Commander a hot commodity. Not surprisingly, large numbers of mallards, pintails and wood ducks began rapidly winging into range. Suffice to say, it was easy to see why the Robertson family often dines on duck gumbo.   
A powerful and dynamic speaker, Phil Robertson shared his testimony, including playing football at Louisiana Tech where he was the starting quarterback in the mid-'60s. During one game, after having thrown a long touchdown pass, he thought to himself, "Yeah, this is fun, but I'd rather be hunting ducks." He quit shortly thereafter and his understudy, a fellow named Terry Bradshaw, took over. In his autobiography, "It's Only a Game," Bradshaw said "The quarterback playing ahead of me, Phil Robertson, loved hunting more than he loved football. He'd come to practice directly from the woods, squirrel tails hanging out of his pockets, duck feathers on his clothes. Clearly he was a fine shot so no one complained too much."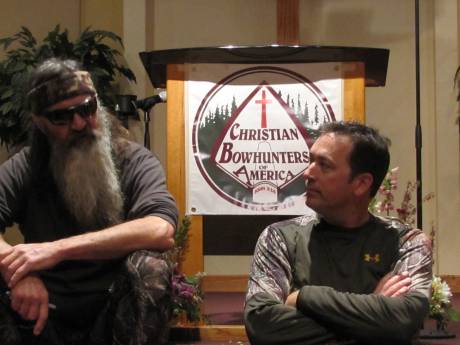 Alan Robertson, on the right in photo above, is Phil's oldest son and the only clean-shaven of his siblings. He's an ordained minister in West Monroe, La., and before introducing his father on this evening, he told the audience how his parents bumped into Bradshaw at the Los Angeles airport. The two former teammates hadn't seen each other for 44 years but that didn't stop Bradshaw from giving his former mentor a big bear hug. Bradshaw then went on to tell his old pal of all the injuries he had sustained during his playing career, to which Phil replied, "I do believe I made the right career decision." His family owned company, Duck Commander game calls, recently celebrated its 40th anniversary.         
Once out of football and pursuing the outdoor activities he loved, life wasn't without its rough patches for Phil Robertson and his young wife. He and Kay married in 1966 and for a few years he went on living as though he were a bachelor. "Miss Kay," as she is known to millions of viewers, laid down the law one day in those early years of their marriage and it was around that time Phil made what he says was the best decision of his life when he accepted Jesus Christ as his Lord and Savior.
On this evening, after being greeted with an enthusiastic standing ovation, one of the first things he did after stepping to the podium was take his worn and well-used Bible from his camo rucksack. And for over an hour the 800 men, woman and children were enrapt as the Duck Dynasty patriarch shared a message of faith, family and the United States of America. His theme for much of the evening was adversity -- whether on a national or individual level -- is often the result of disobedience. He spoke of the dangers and consequences resulting from neglecting God's word and putting the Ten Commandments on a shelf. His statements were not based on conjecture but rather a strong foundation of faith. 
After listening to Phil Robertson, I felt as though I had just heard a combination of John the Baptist and Thomas Jefferson. Obviously, he's quick to share his faith, love of family and country -- in that order. And it came as no surprise that those in attendance gave Phil Robertson another standing ovation as he concluded his talk.
April 29, 2013 - 5:59pm
#5
Beth - Alan Robertson said he is frequently asked if Si is really as quirky as he is portrayed on the show and Alan will reply with, "No, he is much worse!" this cracked the audience up - after all, how could the Si we all know and love be any funnier? In real life he must be a trip!!!
p.s. he's our favorite too.