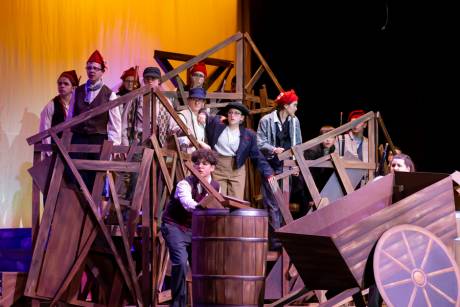 In his last year at Batavia High School, Paul Daniszewski — aka Jean Valjean — verbally painted an end to his senior year with sad hues washed in bright swaths of excitement about what's ahead.
"It's very bittersweet because it's like, yes, the final show, the final hurrah. But also, Oh God, the final show, the final hurrah. It's very much a sense of like going out with a bang and with a pop," he said of this weekend's production of "Les Misérables."  
His future plans include being an acting major at Genesee Community College, transferring to a four-year college to continue that pursuit, and then "just see where the wind takes me" while hanging onto his vision of being a professional actor.
At present, he's just trying to follow show Director Caryn Wood's advice for all 36 cast members: take care of yourselves, eat, sleep, and get ready for some grueling run-throughs over the next two days.
After that, it's showtime: Les Mis (that's what everybody seems to call it) goes on at 7 p.m. Friday and Saturday and at 2 p.m. Sunday at Batavia High School, 260 State St., Batavia.
Most everyone has at least heard of Les Mis, even if not having seen it or read the book. Set in early 19th Century France, it is a story of Paul's character Jean Valjean, a French peasant, and his desire for redemption after serving 19 years in jail for stealing — not a suitcase of cash or anything quite so tangibly valuable — but a loaf of bread for his sister's starving child.
Priceless indeed. Yet he serves jail time and then decides to break parole and begin a new life with some inspiration from a bishop.
The 17-year-old actor auditioned for the role after some prodding from the show director.
"Miss Wood guided me on who I wanted to be," Paul said. "Jean Valjean, he's my guy. He is just an emotionally challenging character for me to portray because a lot of the characters that I've played in the past have been very upbeat, the first person I ever did was with Shrek, Lord Farquaad. And he's a very, flamboyant and very over the top … and the last one I did was Bill, and he was also very outgoing," the actor said. "But Jean Valjean, he's so emotionally deep, that it was very hard for me for a while to embody that character. And show me the way essentially."
Javert, the police inspector played by junior Peyton Woeller, seemed like an atypical character from what he's usually played in shows, he said.
"But there's just something about him, I felt like he would be a fun character to play, especially because he contrasts a lot of other characters I've played before, because, like, this is the main antagonistic role. And normally I'm not a main antagonistic role, like last time in Mamma Mia. I was Harry, who was just one of the dads. So it was really fun. It was a change, which drew me to him," Peyton said. "I actually was not all that familiar. When I've always heard of it, I never got around to watching it. But once we learned that, that was the show we were doing, I watched the Netflix one. And then I ended up watching a bunch of different stage productions on YouTube. But now I'm very familiar with the show. It's a show based on hope for tomorrow. That's the main message behind it. It's got all of these different intertwining characters, and all of these different relationships that blend together and create just a wonderful, wonderful, complex story. And there's so many different aspects that all get thrown together in different areas. And it's just so beautifully written with the music as well."
It's fair to say that Javert is no nice guy. He refuses to let Jean Valjean escape justice and pursues him during most of the play. Meanwhile, Valjean and a host of characters are swept into a revolutionary period in France, where a group of young idealists attempts to overthrow the government at a street barricade in Paris.
After Valjean is humbled by compassion from a bishop, he resolves to redeem himself and turn his life around to live for God. Just where does Fantine, Abi Hoerbelt's character, come into the story? Fantine has a young daughter named Cosette, who is later adopted by a central character.
Abi has been involved in theater since fifth grade, making this her 15th show — and last one in her high school career. Uncertain yet where she will go after graduation this year,  the senior plans to pursue theater and English education to become a teacher.
So, out of 15 shows, which one has been a favorite?
"I would by far say that this show is my favorite show I've been in. I've been in shows since I was about seven. But this is probably the biggest role I've played. And also, I just, I love the music, and I love the community and family we've built with the cast," she said. "So I've been in shows all four years of high school, and they were all amazing. I love them, but this one was probably my favorite. I think it kind of has something to do with it being my last show. I'm really savoring it."
Fantine is an impoverished factory worker who loses her job and has to turn to less ideal work so that she can pay a couple to continue caring for her daughter. Aside from absorbing the role of a strong character, Abi has also enjoyed building relationships with fellow cast members. The experience makes for a reluctant curtain call.
"It's really sad. As I said, I've been in the shows all four years of high school. So this coming to an end is really, like, heartbreaking, but I know that I will come back and see the shows, and I'll be doing more shows in my future," she said.
Director Caryn Wood felt good about this choice of show, as if the students were "eager to take on a challenge." They have put their "heart and soul" into preparations, and all have been researching their roles, watching the show, and reading reference materials "to build their characters," she said.
"To begin with, Les Mis is difficult content, the music itself is difficult, it's challenging. The only difference between the full adult version or the standard Broadway version and the student version is that they've abridged some of it, they've shortened some of the songs for length, for time. But otherwise, all of the language is the same. Some of the keys have been adjusted for younger voices, but it's very much the same," she said. "So that one is right off the bat, it's hard material. But then technically, I mean, there's a ton to incorporate: microphones, gunfire for the battle scenes, you know, there's just a lot to fully, in order to fully embody the tone of the show, you have to really support that you want it to visually be pleasing and to the level that it should be.
"You know, there's a standard, and we have to try to live up to it. People have expectations, and we want to reach those and hopefully exceed those expectations," Wood said. "So just the show itself is challenging, and lots of costumes, lots of technical needs, lots of lighting design, in order to bring a well-rounded and beautiful show altogether."
Tickets are $10 in advance and available online or $12 for adults and $10 for students/seniors at the door.