March 10, 2022 - 10:00am
Chamber Awards: Valle Jewelers, a community staple and family-run business for 70 years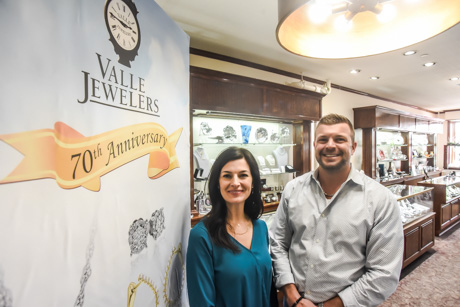 For siblings Stephen Valle and Carrie Lawrence, they may have their differences, but both agree on one central point: The history of Valle Jewelers is every bit as important as its future.
"We owe the success of our family business to our grandparents and our parents, for paving the way for us," Lawrence said during an interview with The Batavian. "We are a conservative partnership, and we made really strict, responsible decisions," she said, as her brother tacked on "to keep the business in a successful position."
They have not only maintained that goal, but also reaped some well-earned recognition as the 2021 Genesee County Chamber of Commerce Business of the Year Award recipient. Theresa DeMars nominated Valle Jewelers for its customer service, engagement with and support of the community, steadfast participation in downtown events, and being a "fixture in our community for three generations," DeMars said.
"Valle Jewelers is a community staple, a true family-run business, and one of our best kept secrets," she said in her nomination. 
Valle and Lawrence discussed some of that history, how the siblings manage to work well together, how the COVID-19 pandemic affected their jewelry business and how to take it into the future. 
Where it all began …
Grandpa Dominic Valle first opened the doors of Valle Jewelers on May 3, 1951, in what was once the Carey Mansion, which has since been torn down and sat on East Main Street across from the current City Church. Dom and Mary Valle continued the business and saw it through the Urban Renewal era when the jewelry store was housed in Genesee Country Mall for 24 years. When Mary retired from her nursing career, she became "a huge part of our move to Jackson Street," Lawrence said. 
And it's there, at 21 Jackson St., where Valle's found its home, complete with the iconic street clock at the curb. Grandpa Valle died in 2005 and Dom died five years ago. Mary decided to step away from the business as Stephen and Carrie stepped up to carry the tradition forward. That wasn't her first intention when filling in a gap on the sales floor 13 years ago, Lawrence said. 
"I never had any plans of coming in here," she said. "They had a need and I thought it was going to be temporary. I never left."
Stephen's entry into the business was more purposeful. After attending a couple of years of college, he attended the New Approach School for Jewelers in Virginia Beach. With humble beginnings of helping out for a few summers, his focus grew toward the repair end of things, and now he's been fully immersed in operations as a 20-year jewelry veteran. The Chamber award has given him pause to reflect on being part of the family's legacy.
"I'm super proud to be a a part of it; it made me realize how special this award is," he said.
Has working side by side with his sister been a smooth journey? He and Lawrence agreed that, sure, they may not agree on every little thing,  but they do agree on the big stuff.
"There are some brother and sister dynamics that are dealt with day in and day out. At the end of the day, we always agree on the things that matter. Our customers and our staff are most important," Lawrence said. "And we have always given as much as we can to our community that has been so good to us. It is just as important to us to support our community as it was for our grandparents and our parents."
Social media's healing power ...
They have a grateful spirit, not only for the solid foundation left to them but also for shakier times when a pandemic hit the business world hard. For a luxury business, Valle and Lawrence were initially concerned about how it would fare, he said.
"We were nervous about the direction we were going to go," Valle said. "It created much more of a focus on how to reach our customers."
Armed with six years of college studying business marketing, Lawrence is the chief marketer for the business. She is adept at taking and promoting photos on Instagram, Facebook, and other social media venues, and has realized, she said, that "all of that technology has allowed us to reach our customers." In fact, digital technology has been "a game-changer," she said, as a way to safely promote and deliver products for people to see.
"In a digital age, we haven't lost focus with our connection with our customers. Our focus is to bring customers through the door. That's what we love about the business, the face to face interaction," she said. "We were busier than ever through COVID. Really, social media certainly assisted that for us to keep moving; it gave us that ability. Certainly, we were busier through COVID because people weren't traveling and weren't going out as much. And it's such a beautiful, feel-good product that made people happy. So we flourished through COVID, because it gave people a little ray of sunshine, you know?"
Even though they were able to maintain — and even increase — business during the whole COVID shutdown, both partners realized the importance of relationships that stemmed from as far back as their grandfather Dominic, Valle said. It was that combination — a personal connection and digital platforms — that stabilized their success, he said.
The store was only closed for 12 weeks during the two-year pandemic, Lawrence said.
"Other than that, we battled through for a year and a half," she said. "Yes, it was more difficult, we had to work a lot harder, but it was still successful. We're super blessed."
They maintain a website that features select products, however, the main goal is to get customers through the door "so we can develop relationships with our community, like my grandpa did 70 years ago," Lawrence said. "We've still been able to maintain that, and that's actually what we love about this business, that it's so face to face, and so many things these days are not."
Moving onward ...
From the 1950s through Urban renewal and now getting beyond a pandemic, what does the future hold for Valle Jewelers? Joining the Retail Jewelers Organization and attending yearly shows have provided the pair with keen insights into what's trending and hot in the industry, Lawrence said.
Sterling silver and 14-carat gold, despite — or maybe because of — its increasing cost are popular choices, she said. And updated technology has boosted custom-designed engagement and wedding rings, and made them "easier than ever" to craft tailor-made items for customers, she and Valle said. As for trends, some popular fashion styles are returning, Lawrence said, including "layering chains and stacking jewelry."
This is the third of four articles highlighting the 50th Annual Chamber of Commerce Awards. The annual dinner is Saturday at Batavia Downs, with hor d'oeuvres at 5 p.m. and dinner at 7 p.m. For more information about the dinner, call the Genesee County Chamber at (585) 343-7440.
Top photo: Siblings Stephen Valle, 40, and Carrie Lawrence, 38, are proud to be the recipients of the 2021 Genesee County Chamber of Commerce Business of the Year Award for their longtime family business, Valle Jewelers. Stephen Valle works on repairs at his niche inside the Jackson Street shop. Valle's is full of jewelry choices, and the signature street clock earmarks the store at 21 Jackson St., Batavia. Photos by Howard Owens.