Image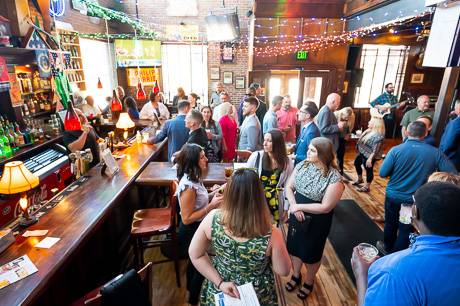 During the downtown annual beer walk, an out-of-town participant won a gift card, which not only brought her back, but she had her whole family in tow. They shopped at Empire Hemp and booked a massage at The Spa at Artemis, promising to return for dinner and stop into Valle Jewelers to browse and hopefully purchase some of the shop's dazzling items on display.
That is perhaps the epitome of what a Business Improvement District event is all about, and Executive Director Shanon Maute shared that visitor's excitement of winning and exploring downtown Batavia during BID's annual awards get-together Thursday evening.
"The events, and what they mean to our community — where do I start? Let's start with the Wine Walk, Beer Walk and the newly added Cider Walk. These events may not seem that impactful, but on a typical walk, they get over 600 people downtown and into our businesses," Maute said at Center Street Smokehouse. "We are not only getting locals, but we are seeing more and more people from out of town. The reactions we get from them are great. They tell us how much they love our downtown and had no idea that some of these businesses were here — sad but true. We do see a lot of repeat business from these walks."
That one winning participant and her family, on their return trip, had lunch at one restaurant and dessert at another before shopping and getting a pampering treatment at Artemis, Maute said. They took advantage of much that downtown retailers and eateries had to offer, with no time left to even complete their to-do list during one visit.
"I call that a success!" Maute added.
That might make one wonder if locals look at downtown with similar fresh-eyed excitement of a visitor or take for granted those shopping and eating opportunities. Maute doesn't, and hopes to increase the attention drawn to inner-city offerings.
"I have not lost my excitement for our downtown and look forward to our upcoming events. The Board of Directors, the committees, and our volunteers have been amazing and have really supported my ideas, and I greatly appreciate each and every one of them," Maute said. "The committee members have become my extended family, and I could not have done these events without them, so thank you."
She announced the newly added event this year that will be coming up in about six weeks: the inaugural Cider Walk on June 17. Italian Fest and the Boxcar Derby are being tweaked to be "bigger and better than ever," doubling in size, she said.
Other events include:
Friday night Jackson Square concerts resume on July 7
Thursday concerts on July 13 and 20, August 10 and 17
Italian Festival and a Classic Car Show is set for July 29
BID Boxcar Derby on August 26
Scarecrow Contest in September
Wine Walk on October 7
Shop Local in November
Christmas in the City December 2
Febrewary Beer Walk has been slated for February 24
Image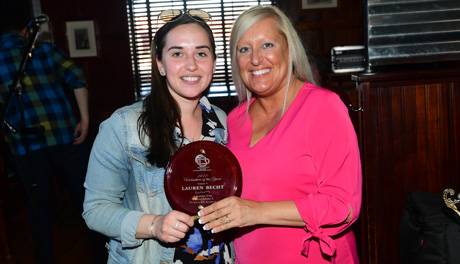 Maute then presented awards to the Volunteer of the Year, Lauren Becht, for being "one of the nicest, most positive people I have met" and for serving on every committee, always being available and willing to help out — whether it's racing Maute down a hill in a Big Wheel to test the hill before the Box Car Derby or stuff her car full of pumpkins for the Paint Your Pumpkins Pink breast cancer campaign — Becht was there.
"And she does it all with a smile," Maute said. "I know I can always count on her for anything."
Next up was Business of the Year, and that went to Judy Hysek for her vegan restaurant that began as an incubator trial inside of Eli Fish Brewery on Main Street. The concept and place — Eden Cafe and Bake Shop — grew and became popular enough to move out on its own, which it did nearly a year ago.
The site has its own brick-and-mortar location at 242 Ellicott St., and Maute is "very happy to say this was a success story" that she could announce.
"The award for Business of the Year is actually a business that I am very proud of and have personally been there since the beginning and watched them grow," Maute said. "I highly recommend stopping in. Tell them Shannon sent you; it won't get you anything. I just think it would be funny."
BID's goals include continuing to cross-promote each other's businesses; create relationships amongst all BID businesses; increase their online presence; target events toward the "next generation to bring vitality back to downtown."
The BID is made up of board officers Derek Geib as president, John Roche, vice president, Glenn Liucci, treasurer, Kourtney Kunichika, secretary; and members Rachael Tabelski, city manager, Peter Casey, Ken Mistler, Patti Pacino, Marty Macdonald, Carrie Lawrence, Shelly Wolanske, Peter Hunt, Lauren Becht, Patrick Burk, Cregg Paul and Sara Tenney.
Image
Image
Image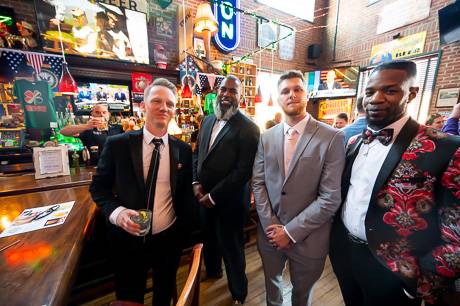 Image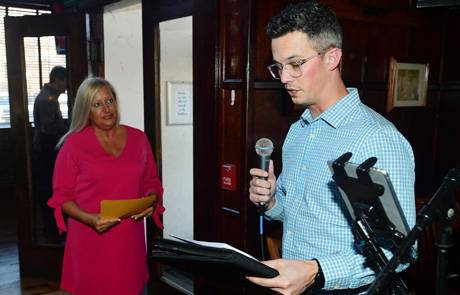 Image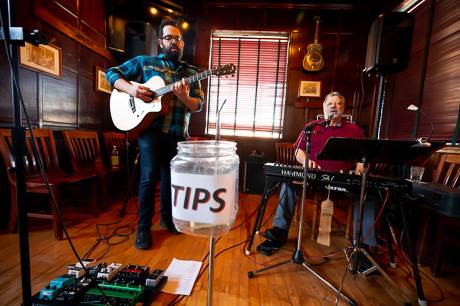 Top Photo of people mingling during the annual BID awards get-together Thursday at Center Street Smoke House in Batavia, by Howard Owens; Volunteer of the Year Lauren Becht and BID Executive Director Shannon Maute, and Business of the Year Eden Cafe and Bake Shop, left, Thomas Shaw, line cook, Shannon Maute, owner Judy Hysek, and chef manager Nicole DellaPenna; and the unofficial Best Dressed Award went to My Cut Barbershop, presented to owner Zach Watts. seen also with Victor Thomas, Connor Hyde-Hamilton and Ray Williams; and no ID available for the speaker, all courtesy of BID. Live musical duo entertains during the evening, by Howard Owens.