Image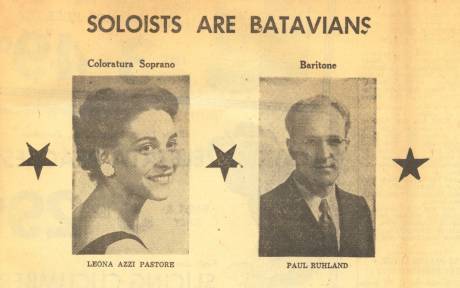 Genesee Symphony Orchestra's concert this weekend will pay homage to a Batavian who served as the group's historian and board member in the early 1990s and again in 2000 when she chaired the group's 60th-anniversary dinner, member Roxie Choate says.
The orchestra program will include a note to honor Leona Pastore, who died Sunday, Feb. 6, after an active life of 94 years. Choate surmised what it would say.
"We honor the memory of Leona Pastore, a longtime supporter in every way for the GSO. She wanted the GSO to succeed in every manner," Choate said to The Batavian Wednesday. "She worked hard for the musicians, and was always very dedicated."
The concert is set for 4 p.m. Sunday at Genesee Community College, 1 College Drive, Batavia, with a pre-concert chat at 3:20 p.m.
An article in the GSO history notebooks includes a concert review written by Maurice Nicholson in 1953. Nicholson raved about guest soloists Paul Ruhland, a baritone, and "Mrs. Leona Azzi Pastore's" coloratura soprano. "Her lovely voice wafted through the air like a zephyr," Nicholson wrote.
"And, judging from the applause, won the complete approval of the audience," he said. "Her coloratura work in the Herbert number was well near perfect as was her interpretation of the Romberg melody."
One of Pastore's favorite quotes was that life is a song and love is music. She shared that love as a guest soloist for GSO, produced and performed on WBTA radio with her own show, was the soloist for the Genesee Chorale and Ars Nova Singers.  She also became an organist for St. Anthony's Church and appeared in many Rotary Club Broadway local productions, including Brigadoon, Mame, Camelot, and Sound of Music.
She was recognized as an outstanding Italian American by the Paolo Busti Foundation for her accomplishments in music and was associated with the late author John Gardner's Memorial Society. Society members often met at the Pok-A-Dot in Batavia, which was founded by Pastore and her late husband Philip. After his death in 2018, Leona carried on the Ellicott Street tradition of beef-on-weck and another popular fare in a low-key, friendly environment. 
Pastore's passion for music began at the age of seven in a performance of The Little Drummer Boy and at 11, she joined the St. Anthony's Senior Choir, becoming a soloist performing at all church functions. In her senior year, she became the soloist with The Choristers of Rochester Civic Orchestra, where she sang for multiple organizations, churches, and functions throughout the state.
After graduation from High School, she went on to study at the Eastman School of Music in Rochester, N.Y. where she majored in voice. Upon finishing college, she married her husband Philip and began raising her family, all while remaining active in her church and St. Anthony's School, where she became President of the PTA.
Pastore was also known as a loving wife, mother, grandmother, great-grandmother, aunt, and friend.
For the full obituary, go to: 
https://www.thebatavian.com/obituaries

Top photo depicts soloists Paul Ruhland and Leona Pastore in a 1953 program. Courtesy of Genesee Symphony Orchestra.
Image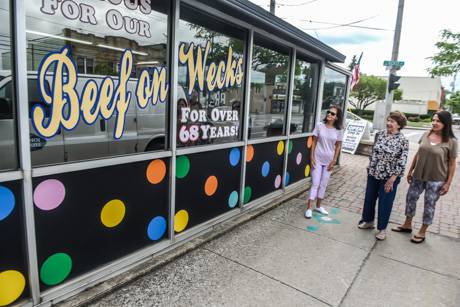 File Photo: Paulette Pastore, Leona Pastore, and Phyllis Pastore-Beers outside the Pok-A-Dot in July, 2021