Image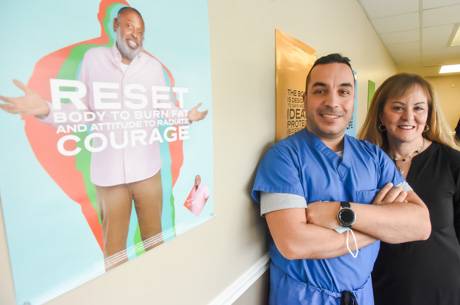 Of the myriad weight loss apps, programs, diets and routines out there, many people still fail to achieve long-lasting success, and Nancy Fallon, certified coach and manager of the Ideal Me Weight Loss Clinic in Batavia, believes there can be another outcome, she says.
"The Ideal Me protocol is a science-based program designed to help you lose weight by resetting your body to lose fat," Fallon said during an interview with The Batavian. "It's a three-phase approach to losing weight, and, most importantly, learning how to  keep it off. We're excited about it. When you lose those initial pounds, it gives you the motivation to keep going."
Ideal Me Weight Loss is part of Guler Cardiology and Wellness at 34 Swan St., Batavia. It's a branch of the Ideal Protein of America company, which focuses on fat-burning through an initially low-carb, higher protein food program.
Unlike many of those other programs, Fallon said this one provides one-on-one counseling and the education necessary to keep clients on track with a life-changing transformation. The three phases start with the actual weight loss; that is achieved by getting the body into ketosis with a quality protein meal plan of three "Ideal Me Protein" products, plus vegetables and proteins such as chicken, beef, or fish. That initial phase includes a review of the client's health history, weight loss goals, and food preferences. For example, there are gluten-free and vegetarian options for those clients who need them. 
Phase II is to stabilize that weight loss by re-introducing carbs — low glycemic carbs — to the meal plan and drop to two Ideal Me Protein foods per day; and the third phase is to sustain the weight loss by making healthier food choices, writing in a food journal and maintaining a weekly check-in with a certified coach, she said. 
The program is overseen by a medical physician, Dr. Ahmet Guler. There is "a huge epidemic" of people being overweight and obese throughout this country, he said, and that leads to many different illnesses.
"Heart disease, diabetes, sleep apnea, atrial fibrillation, and the list goes on," Guler said. "So with all that in mind, what our goal here, or our vision here, is, basically, how can we get our communities healthy."
The answer was discovered with the Ideal Protein of America program as a way to improve the local population's diet and ultimately reach a healthier weight, he said. The program decreases highly saturated fats and carbohydrates and increases proteins and low-carb fruits and vegetables, supplemented with protein-based snacks and desserts. In turn, by doing that, those symptoms of hypertension, diabetes and/or high cholesterol might also improve, Dr. Guler said.
His philosophy is that people who are overweight also often move less as a result, which leads to other problems. So by attacking the cause — the weight — the issues of painful hips and knees, heart disease, and other ills have a better chance of improving, he said.
"So if we could help you lose that weight in a healthy way, in a scientifically proven way, then basically, you may have a chance, a second chance, at life in terms of motivating yourself to start moving," he said. "And as you move, it might motivate you to do more exercise. And if you do more exercise or cardio exercise, then your overall health just may improve. So that's basically the gist of it."
The Ideal Me program is a one-year package deal that includes a variety of 70 Ideal Protein foods of salty, savory, chewy, crispy, and/or sweet tastes; plus vitamin and mineral supplements, and one-on-one sessions with the coach. Does it mean never eating fast food again? Not necessarily. However, the coach and program material will teach you how to make healthier choices for overall better health, he said. 
Fallon experienced first-hand how the program worked, and has gone from client to cheerleader and coach for its effectiveness.
"I did the program four years ago, and I lost 35 pounds. My bloodwork was better than it ever has been in years," adding what made the difference for her. "I could still have those little treats I liked, the chocolate products I was able to have."
She also believes that the program strays from others by offering individualized plans, accountability and motivation depending on clients' needs. Seminars on the program are being offered every two weeks at the wellness center. Prospective clients will be able to sample products and hear more about the program, she said.
For more information or to sign up for a seminar, call (585) 250-4567 or email [email protected].
Top photo: Dr. Ahmet Guler and Nancy Fallon celebrate the addition of the Ideal Me Weight Loss Clinic at Guler Cardiology and Wellness at 34 Swan St., Batavia. The clinic (and one in Warsaw) is the "only one in this area" between Buffalo and Rochester, Guler said. Photo by Howard Owens.