Image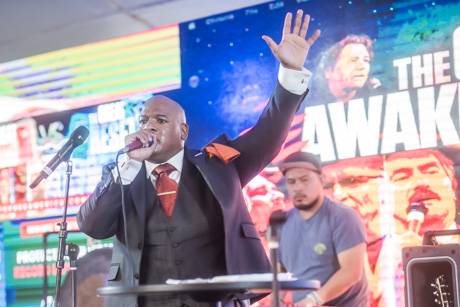 Five months after the much-debated and narrowly criticized — mostly by local church groups — ReAwaken Tour hit Batavia, the event still haunts organizers in the form of a letter sent by the state attorney general last August.
After an attempt to obtain a retraction from Letitia James in October, event organizers Clay Clark and Paul Doyle, pastor of Cornerstone Church in Batavia, took legal action and filed a lawsuit against the top law enforcement officer on Jan. 20.
"Mr. Clay Clark and I obtained an attorney and filed a Federal complaint to Attorney General Letitia James in October 2022 giving her an opportunity to make a public retraction of her statements made in the letter sent to us, as they were not founded upon truth or evidence, but rather theoretical discourse, and were issued with ill intent to cause fear, intimidation and harm to Clay Clark, Cornerstone Church and myself," Doyle told to The Batavian. "Her job is to protect The People of New York, not vilify, entrap, or create false propaganda to inhibit our pursuit of life, liberty and happiness."
He was unable to speak further at the time but has said he will do so at some point. Meanwhile, The Batavian has obtained a copy of the letter and lawsuit, filed solely against James for her August letter pursuant to the New York State Human Rights Law, New York City Human Rights Law, and New York State Civil Rights Law for "negligence, defamation, libel, and discrimination on the basis of race, color, religion, and political affiliation."
Plaintiffs include Paul Doyle, senior pastor at Cornerstone Church, 8020 Bank Street Road, Batavia, and Clay Clark, coordinator and organizer of the Reawaken America Tour, Oklahoma.
"Specifically, plaintiff alleges that the Defendants negligently, wantonly, recklessly, intentionally, and knowingly sought to and did deprive them of their constitutional and civil rights, pursuant to the above-named statutes and causes of action by committing acts to deprive Plaintiffs of rights secured by the Constitution of the United States and the State of New York," the suit states. "Further, Defendant James negligently, wantonly, recklessly, intentionally, and knowingly published multiple false statements to multiple media outlets to mar the reputations of Pastor Doyle and Clay Clark, to provoke objectionable opinions in the minds of members of the community to expose plaintiffs to hatred, contempt, and aversion."
Image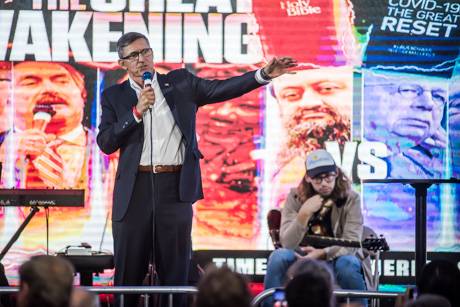 The Tour had originally been scheduled for a venue in Rochester last summer, but as controversy and protests grew louder, it was canceled. Doyle then agreed to host the event at his church campus on Bank Street Road, which drew similar protests, fear and claims of violence related to white supremacists. About two weeks before the event occurred, James stepped in and sent a letter that began by introducing herself as "New York's top law enforcement officer." It was addressed to General Michael Flynn and Clay Clark, and copied to Cornerstone Church.
"I have significant concerns that the ReAwaken America Tour's upcoming event at the Cornerstone Church … could spur extremist or racially motivated violence," James said. "These concerns center around the event's proposed dates, which coincide with the five-year anniversary of the deadly Unite the Right rally in Charlottesville, Va., and past extremist statements made by yourselves and the other featured speakers on the tour."
The letter can be considered nothing less than "an attempt to covertly intimidate and threaten the plaintiffs into shutting down the event," the suit states. James makes numerous statements that are "facially incorrect, libelous, and covertly threatening towards both Plaintiffs. Her actions are politically motivated and the concerns Ms. James relays in her letter are a cloak for her passive threats to prosecute plaintiff Doyle, Clark, and others associated with the event strictly for their political views," it states.
Her letter was not the only tool for either dissuading the event from happening or expressing strong concern about it. Local church and nonprofit groups formed a coalition to protest, speak out, carry signs and hold a vigil in efforts to lessen the strength of what they perceived to be a dangerous event about to take place. Their concerns overlapped with those of James, including racism, white supremacy, violence, discrimination, and an overall violation of civil rights.
James' letter continued on to remind the organizers that New York law prohibits "racially motivated violence, harassment, or interference with another person in the exercise of their civil rights," and that Civil Rights Law 79-n empowers her office to investigate acts of violence, intimidation, threats, or harassment directed at people based on a belief or perception regarding an individual's race, color, national origin, ancestry, gender, religion, religious, practice, age, disability, or sexual orientation.
"In addition to actual damages," she continues, "any person who violates this statute can be held liable for $5,000 in penalties for each violation."
The lawsuit also alleges that James' "reckless threats" to prosecute the plaintiffs along with her inferences towards racial discrimination and fraud associated with the church and the event were publicized in numerous media outlets and which have injured Pastor Doyle's reputation, that of his church, and the reputation of Mr. Clark as well.
"As a result, Pastor Paul and Cornerstone Church now have a smear against their names which has created a suspicious taint on the relationships they have worked diligently to develop," it states. "Yet, despite its years of sacrifice and service to the community and its youth, Ms. James decided to forego any reasonable inquiry into the church to verify her alleged concerns, as required of her as the top law enforcement officer."
Item #55 cites the Supreme Court, "that speech critical of the exercise of the State's power lies at the very center of the First Amendment," and as a result, "a section 1983 claim will lie where the government takes negative action against an individual because of his exercise of rights guaranteed" by the First Amendment.
"The plaintiff in this action has an undeniable right to associate and speak freely in accordance (with) the First Amendment," it states. "The letter sent by the Defendant was meant to intimidate and harass the Plaintiffs into not exercising these rights through government coercion and veiled threats of investigation and prosecution into Pastor Paul and Cornerstone Church, Clay Clark, and the ReAwaken America Tour."
The organizers, via the lawsuit, accuse James for taking actions that "constitute a blatant abuse of authority" that's been granted to her by the state.
The Attorney General's Office did not immediately respond to The Batavian with comment.
Image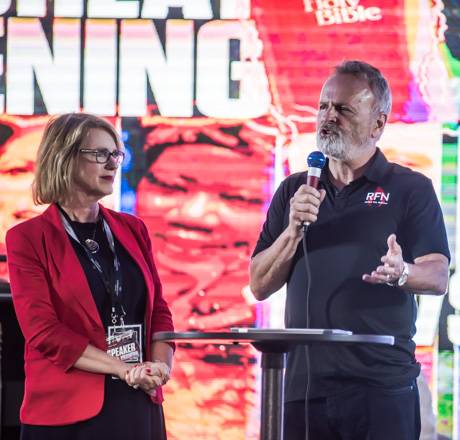 Top File Photo: Pastor Mark Burns prays for Attorney General Letitia James after she sent a letter warning organizers about hosting the tour in Batavia; General Michael Flynn offers a message during the two-day event; Pastors Lee and Paul Doyle talk to the crowd under the tent alongside Cornerstone Church in August 2022. Photos by Howard Owens.