January 16, 2023 - 8:05am
Shine a light on the star in your life at Crossroads 25th gala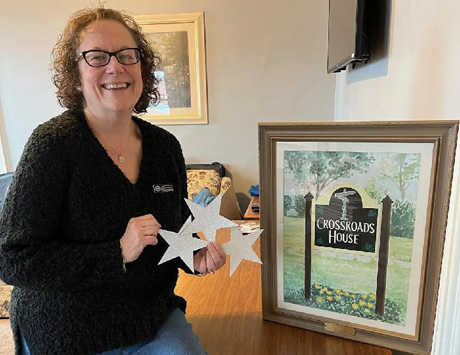 Is there someone who's the star in your life? They may still be with you, or maybe they've passed. Either way, if their light has been a bright spot that you'd like to recognize, Crossroads House staff is selling tribute stars to memorialize or honor someone special during the nonprofit's Red Carpet Gala on Jan. 28.
Buy a star (or more) for $25 each, and it will line the red carpeted walkway during the Crossroads 25th-anniversary event. They may be purchased at the house, 11 Liberty St., Batavia, or online at crossroadshouse.com, and do not need to be named after someone who stayed at the comfort care home.
Tickets for the gala dinner are also available for $75 each and include dinner, entertainment, three types of auctions, a 5X7 photo for each couple or group, and $15 Free Play. Doors open at 5 p.m. Jan. 28 at Batavia Downs, Park Road, Batavia.
A VIP sponsorship is $1,000 for a table of eight, and also includes an hour of open bar at 4 p.m., special seating and company advertising throughout the evening.
Auction items include spa packages, romantic getaways, a recliner, and diamond earrings, just to name a few, Director of Development Vicki Johnson said. And people that purchase stars do not need to be attendees of the gala, she said.
Johnson recommends reserving your spot soon, as the event ticket deadline is Friday. Stars may be purchased up to the date of the event.
For more information, call 585-343-3892.
Photo of Crossroads House Director of Development Vicki Johnson showing examples of stars available for the nonprofit's 25th Red Carpet Gala. Photo submitted.