August 17, 2016 - 5:01pm
River Spring Lodge opens in Darien Center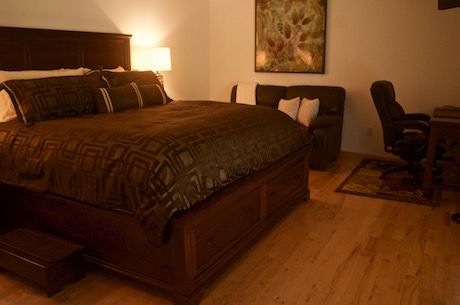 When he was a 16-year-old dishwasher at a local restaurant, the chef he worked under got too busy to handle all the orders and enlisted his help. That moment was to become a defining turning point in Dave Hamer's career in the food industry.
After he graduated high school, he continued on at the restaurant. About a year after that, he enrolled in the Culinary Institute of America in New Haven, Conn. – what he likes to affectionately refer to as akin to "becoming a chef at Yale."
Not only did the institute expand to a location in New York – High Park – after stints in the states of Alaska, Florida, Tennessee and a few others, Hamer and his wife, Carolyn, returned to their home state of New York. More specifically, they returned to Wyoming County to plant their roots in a new business located at 1961 Church Road, Darien Center.
River Spring Lodge, a premier boutique hotel, nestled on 20 tranquil acres overlooking a private pond, provides luxurious guest rooms that include a three-course breakfast. The inn offers five beautifully appointed king (bed) rooms and two queen rooms that are smart, modern, comfortable and luxurious.
"As a New York native and a former resident of Wyoming County, opening a lodge here is like coming home again," Hamer said. "My wife, Carolyn, and I are excited to be in Western New York (WNY). We love the quiet, secluded location that is only 30 miles from Buffalo and an hour from Rochester." 
The couple owns the country estate. They are two of the most highly regarded professionals in the boutique lodging industry and have served discriminating clients from all over the world at Orvis-endorsed hospitality businesses, a company which is touted to be the "purveyor of the Distinctive Country Lifestyle," as stated on its website. 
The Hamers have worked at some really nice places, such as the Monhegan Island Inn, in Monhegan, Maine. The Inn, 10 miles off the coast of Maine, sits atop a bluff looking west over Monhegan Harbor toward the Atlantic Ocean; Kennicott Glacier Lodge, Kennicott, Alaska. Built in 1987, the Kennicott Glacier Lodge is a replica of one of the historic mining buildings from the copper mining boom town days. The Timbers at Chama, in Chama, N.M., is a 400-acre ranch originally built as an executive retreat and it's constructed from century-old bridge timbers. Elk hunting is the main attraction. And Pheasant Crest Lodge, Kimball, S.D., is part of a family-owned farm and ranch, the hunting lodge is set upon one of the ranch's highest hills.
In addition to his employment at hunting lodges, Dave has also worked at a few "high-end" country clubs in Florida and Tennessee and performs ministry work through speaking engagements and travel.
"We started looking for a place in New York about three years ago," he said. "We lived in Attica years ago and wanted to return here. We returned last winter as the caretaker of the place while getting it ready."
Dave said he has been "in food" all his life, describing himself as a "career culinary person." Tutored in classical European cuisine, the chef creates food that is beautiful, generous and exceptional.
There are two dining options at River Spring Lodge. Each Friday and Saturday the Chef's Table serves a remarkable five-course dining experience, with or without chef chosen wine pairings. The Bistro at River Spring Lodge will serve a four-course, country gourmet dinner starting at 5:30 p.m. Tuesday through Saturday. The Bistro serves hearty cuisine that includes walleye, beef, chicken, venison and pheasant. The menu also includes gluten free, vegan, dairy free and vegetarian options. 
The Chef's Table not only offers a truly memorable five-course dinner, but also panoramic wooded and water views, a beautiful chandelier, a flickering fire, and lovely table linens. The sophisticated china and crystal stemware add ambiance to an authentic fine-dining experience. Chef chosen wine pairings are offered nightly. Bottles of wine can also be chosen from the River Spring Lodge cellar.
The Bistro at River Spring Lodge offers gourmet country dining at private tables in a relaxed yet elegant atmosphere. Tables are limited and reservations are required.
This upscale inn is a full-service hotel and corporate retreat hidden on 20 quiet, wooded acres. It is located just 30 minutes from BUF Buffalo/Niagara International Airport and less than one hour from ROC Greater Rochester International Airport. The bedrooms are beautifully appointed, each with a private bathroom with heated ceramic floors, double vessel sinks, bathtubs and large European shower rooms. This boutique hotel -- not far from Niagara Falls, and close to Letchworth State Park -- is in an ideal location to explore the natural wonders of the county and all of WNY.
A fully equipped conference room is available for meetings and conferences. A variety of beverage package options are available for private events. A lobby with a baby grand piano and comfortable leather furniture provides the perfect place to host a wine tasting or cocktail reception or to mingle with other guests, read a book or to just relax while enjoying a glass of wine before dinner.
While the Hamers' goal at the lodge is for it to become a premiere destination for couples and corporate gatherings, the couple is also involved in ministerial work.
"From time to time we'd like to host meetings and leadership training and spend time in fellowship with pastors and their spouses. But our primary business is creating a destination for couple to escape to, and companies to see us as a corporate retreat."
Not only is the setting central to larger cities, it's far enough away to be an "escape" from the daily grind, but close enough to be affordable.
"We will be expanding in March by building state-of-the-art conference and corporate rooms that will be fully equipped to be able to accommodate daytime business meetings and the like for those who can do without extended travel. Our lodge complements the other retreats in the area and we look forward to working together with others.
"The friendliness of the people in the county, not just the business folks, has been wonderful. When working on establishing the business, the county folks were nothing but helpful, friendly, warm... I kind of forgotten how friendly the people in Western New York are."
And in keeping with the hometown feel, the company's motto is: We're everything exceptional.
At a recent ribbon cutting to celebrate the grand opening of the facility, Wyoming County Chamber President Scott Gardner said, "We are thrilled to welcome River Spring Lodge and Dave and Carolyn Hamer to Wyoming County. They've made a tremendous investment in the property and offer a premier location for guests and corporate retreats. River Spring Lodge is a beautiful facility offering unique amenities and high quality accommodations."
To reserve your place at The Chef's Table or a table at The Bistro at River Spring Lodge go online at www.riverspringlodge.com or call (585) 708-4212. Local guests are always welcome for dinner when seats are available. Be sure to take advantage of the Grand Opening room discounts before they expire.