August 9, 2017 - 6:30pm
Sponsored Post: Beertavia, a craft beer festival is Saturday -- Get your tickets today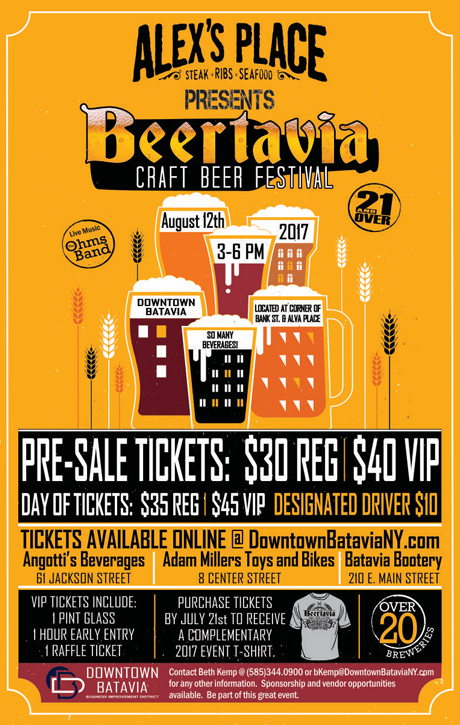 This year's third Annual Beertavia promises to be better than ever. With more than 20 local breweries, this year's attendees will be greeted with over 50 tastings of local craft brew, cider and mead. Along with delicious beverages, the event will host several food and specialty vendors.
As the Headline Sponsor this year, Alex's Place will be on site serving up their amazing menu. We are pleased to have with us also this year Batavia's Original Pizzeria, Yancey's Fancy, Cheesed and Confused Food truck, Buffalo Brew Fab, The Bavarian Nut Factory, Santiago Cigar Factory, and more!
Tickets are still available at Adam Miller Toy and Bicycle, Angotti Beverage and Batavia Bootery until Friday at 5 p.m., and then available at the event. Get your tickets today for Beertavia this Saturday!
The OHMS Band will be performing live and there will be some great raffles! Click here to purchase your tickets now.