May 13, 2016 - 6:30pm
Sponsored Post: Crossroads House Basket Raffle is this Saturday at noon!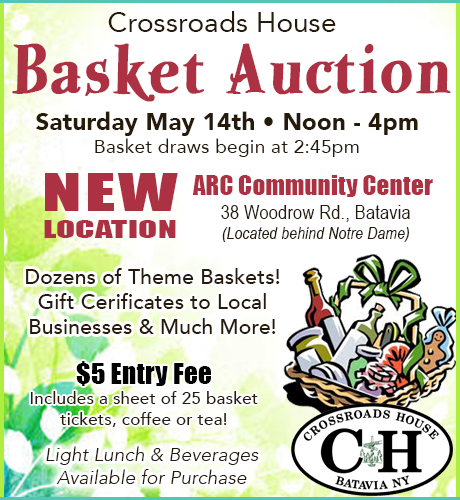 The Annual Crossroads House Spring Basket Raffle will be held Saturday May, 14th at the ARC Community Center 38 Woodrow Road in Batavia. The event runs from noon to 4pm. We are already over 100 high quality baskets with more arriving. There will be Mega Raffles with a variety to suit everyone!
Additional sheets of 25 basket tickets & side MEGA raffle tickets are available for $5.
Beef on weck, chicken salad wraps, snacks and desserts will be available for purchase. You need not be present to win, so stop on out, drop your tickets and have some lunch. Crossroads House is the areas only free-of-charge Comfort Care Home for the dying, which is why we say, "We are a gift to the Community made possible by the Community."
For questions, please call Call Peg at 585-343-3892. 
All proceed to benefit Crossroads House, located at 11 Liberty St., Batavia, NY. "A comfort home for the dying" that serves residents of Genesee, Wyoming & surrounding counties.
Visit us online at www.crossroadshouse.com