September 30, 2016 - 3:00pm
Sponsored Post: Crossroads House Musical Memories will be held Saturday, October 8th!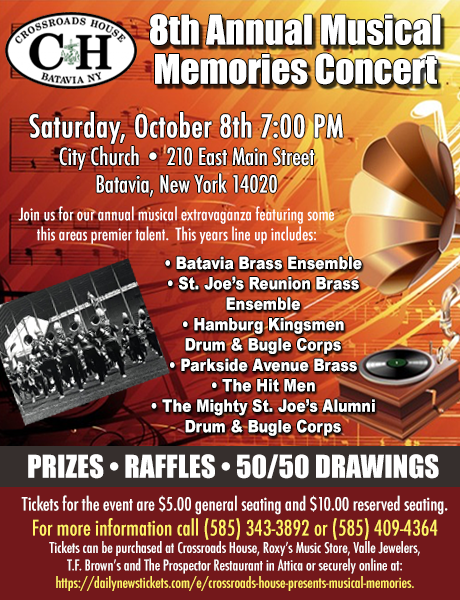 The eighth Annual Musical Memories concert will be held on Saturday Oct. 8th, at The City Church, 210 E. Main St. Batavia. Each year the St. Joe's Brass Ensemble hosts this amazing night of music to benefit Crossroads House.
Highlighting some of the region's top instrumental musical talent, the Musical Memories evening is always one to remember. This year the St Joe's Reunion Ensemble and The Mighty St. Joe's Alumni Drum Corps are celebrating 85 years of entertaining at local, regional and national venues. 
The City Church provides an acoustically stunning setting in the historic former Mancuso Theater. This year the show will be opened by The Batavia Jazz Ensemble. Other bands appearing will be The Hamburg Kingsman Drum Corps, Parkside Avenue Brass and The Hit Men along with The St Joe's Reunion Ensemble and Alumni Drum Corps.
The concert is always a night of great fun and wonderful entertainment. There will 50/50 and Mega raffles as well so come on out and enjoy a great evening of entertainment for a great cause.
Doors open at 6 p.m. and the show starts promptly at 7 o'clock. Advance sale tickets of $5 for general seating and $10 for preferred seating can be purchased at T.F. Brown's, Roxy's Music Store, Valle Jewelers, The Prospector Restaurant in Attica and Crossroads House. Tickets can also be purchased securely online at https://dailynewstickets.com/e/crossroads-house-presents-musical-memories/tickets
Ticket holders will also get discounts at our ticket partners: Center Street Smoke House, T.F. Brown's, Main Street Pizza Company and Big Pauly's Pizza. We'll see you on the 8th!