August 8, 2013 - 4:31pm
Sponsored Post: Disc Golf! The newest sports craze at Darien Lakes State Park!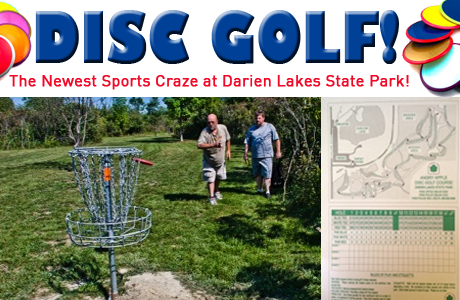 By Lindsay Hawkins
The Newest Sports Craze at Darien Lakes State Park -- Disc Golf!
Think of traditional golf -- but with Frisbees. There, you have disc golf! If throwing is not your forte (like myself), the course may seem intimidating -- but don't let that deter you from trying it out at Darien Lakes State Park's beautiful 18-hole Angry Apple Disc Golf Course.
The object of disc golf, much like traditional, is to "complete each hole in the fewest number of strokes" (or throws in this case), according to the Professional Disc Golf Association (PDGA). There are even specific discs like there are golf clubs! You start from a tee area and aim for the target  an elevated metal basket. At Darien Lakes, the course winds through an old apple orchard and wooded hills, presenting quite a fun challenge for players. 
Also known as Frisbee golf, disc golf is a great way to spend time outside with family or friends. Kids to seniors can be seen on the course, which starts just behind the contact station at the entrance to the park. There are three separate tees to accommodate all levels of expertise, so everyone can participate!
Doug Kelly, park manager at Darien Lakes, brought the sport to the park over a year ago, to much success. He knew the park had the perfect land and setup for a disc golf course. Professional golfers and amateurs have visited the park solely to try the course. 
"The sport has a fairly easy learning curve so you can get proficient rather quickly," Kelly said. "The idea for the course was to create a fun design that would cater both to experienced golfers and those who are just being introduced to the sport. It's a great way to spend a few hours relaxing while playing at your own pace."
Disc golf actually has a local connection! In 1970, a group of people from Rochester had been playing disc golf with tournaments and leagues -- they even had a championship event by 1972. The next year, they discovered the International Frisbee Association and turned their championship event into a national one -- the American Flying Disc Open. From there, disc golf was incorporated as an event in the World Frisbee Championship, and then the PDGA was formed. 
The course is open year-round (yes, if you are feeling adventurous, you can play in the winter!) The park will soon be renting and selling discs for use on the course, but keep in mind that there is a lot of foliage surrounding the course and you don't want to lose your disc! 
Players get to see a secluded part of the park, which is both serene and scenic, while getting in some exercise and relaxation. Visit Darien Lakes' hidden treasure and see what this up-and-coming sport is all about!
Darien Lakes State Park is located at 10475 Harlow Road in Darien.
Call (585) 547-9242 for more information about disc golf and the park.