June 4, 2015 - 12:00pm
Sponsored Post: Genesee Symphony Orchestra to play Jackson Square on Friday June 12th at 7pm.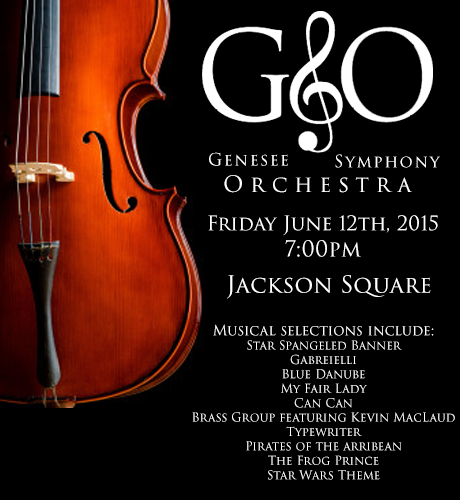 The Genesee Symphony Orchestra is pleased to announce an addition to their 2015 concert series. They will perform free of charge at Jackson Square, Downtown Batavia, at 7 p.m. on Friday, June 12.
"This is a departure from our typical four-concert schedule," says Board Member Patty Hawley, "but not unheard of. The GSO has performed benefit concerts in the past."
While this is technically a free event goodwill donations will be gratefully accepted.
"Like any local nonprofit, the GSO depends on the support of local arts agencies and our loyal audience," Hawley says. "This is a way for us to reach out to people who may be unfamiliar with the GSO while raising some much-needed funds for programming." 
Greg Docenko, GSO's concertmaster, will conduct the orchestra through a series of popular tunes. The musical selections include: "Star Spangled Banner," "Gabreielli," "Blue Danube," "My Fair Lady," "Can Can," and Brass Group featuring Kevin MacLaud, Typewriter, Pirates of the Caribbean, "The Frog Prince," "Star Wars" Theme.
The GSO is also looking for board members to begin serving in August 2015. Terms are three years in length. For more information about this concert of how you can become a GSO board member contact Paul Saskowski at [email protected].