August 12, 2018 - 3:00pm
Sponsored Post: Genesee Symphony Orchestra's Summer Serenade is August 19, get your ticket today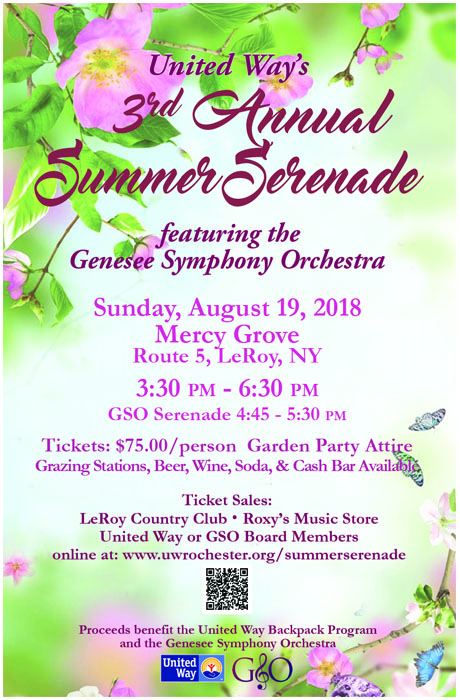 The third annual Summer Serenade is a combined fund-raising event for the United Way's Backpack Program and the Genesee Symphony Orchestra.
The Garden Party will be held 
Sunday, Aug. 19th, from 3:30-6:30 p.m. 
at the Mercy Grove Event Center,
7758 E. Main Road (
Route 5) in Le Roy.
During the three-hour Garden Party, guests can enjoy
hors-d'oeuvres
, grazing stations, beer, wine, and a cash bar, all catered by the Le Roy Country Club. 
The Genesee Symphony Orchestra will play a concert from 4:45 to 5:30 p.m. under a large white tent, which is set up off the back patio of Mercy Grove. The 
stately mansion was built by 
Donald Woodward in 1927 and 
sets amid beautifully landscaped grounds with expansive views.
Le Roy Historian 
Lynne Belluscio
 will conduct mansion tours during the Garden Party.
Bright-colored, garden-party attire recommended.
 
The orchestra will feature "Summer Songs" with their Concertmaster. Kiran Rajamani is the featured violin soloist. Some other musical surprises will also be played.
Theresa DeMars, an account manager with Lawley Insurance, chairs the event for United Way.
Tickets to support this combined fundraiser are $75 per person; $40 of that ticket cost may be claimed as a donation to these two nonprofit organizations.  
Tickets may be purchased at the door or as follows:
Le Roy Country Club
Roxy's Music Store
United Way or GSO Board Members
Online at: www.uwrochester.org/summer serenade
We hope to see all of our wonderful United Way and GSO supporters at Summer Serenade lll next 
Sunday!