May 6, 2017 - 12:00pm
Sponsored Post: Kirkin of the Tartans & Chicken BBQ is Sunday May 7th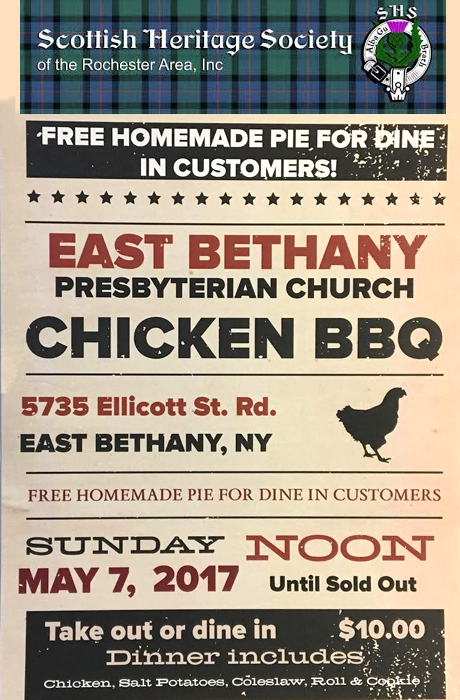 KIRKIN OF THE TARTANS & CHICKEN BBQ is Sunday May 7th at 10:30 a.m., East Bethany Presbyterian Church, 5735 Ellicott Street Road, in their 200th Anniversary Year (1817-2017). For tickets please call  356-4906.
You are invited to participate in this special worship service commemorating the Scottish heritage of the Presbyterian Church and the Scots and Scot-Irish who settled in Western New York. The worship is for Scots and non-Scots. Then join us for the chicken BBQ following.
The Presbyterian Church of Scotland, The Kirk, which was founded by John Knox in 1560, honors its Celtic spiritual heritage bright to this country by the Rev. Francis McKemie, a Scots-Irish immigrant in 1683, he was educated in Glasgow University and a member of the presbytery of Laggan, West Ulster, Northern Ireland. He established his first church in Maryland and Presbyterianism quickly spread throughout the colonies by missionaries.
In the 20th century a Scottish pastor, who became a U.S. citizen, Rev. Peter Marshall, introduced the "Kirkin" of the Tartans to this country in 1941 with a sermon. He served as a pastor of the New York Avenue Presbyterian Church in Washington, D.C., and as Chaplain to the U.S. Senate. Kirkin of the Tartans translated from Gaelic means, blessing of the tartans and blessing of the families. Clans are identified by their tartan plaid wool fabrics, symbols of love and togetherness. The tartans help us remember our anicient heritage, past and present kith and kin, and asking God to help us and bless our future.
If you have a favorite plaid, please wear it. For more information, visit online by clicking here