July 9, 2013 - 4:27pm
Sponsored Post: Landmark Society of Genesee County presents the House & Garden Tour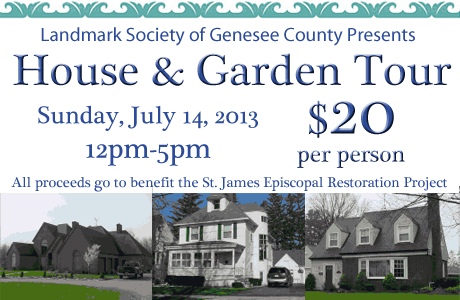 The Landmark Society of Genesee County presents the House and Garden Tour. This event will take place on Sunday, July 14, from 12 to 5 p.m. Tickets are $20 per person and include dessert reception, door prizes and a presentation by landscape designer Tim Richley! Tim has designed landscapes for some of the most beautiful gardens in and around the Batavia and Buffalo areas and will share his expertise with attendees. 
Tickets can be purchased at St. James Episcopal Church 585-343-6802 or at Harrington's Produce (in Batavia) 585-343-0805. Tickets will be available the morning of the tour at St. James Church only, beginning at 11 a.m.
Some of the homes featured on the tour:
Jason and Anna Molino's 1915 Vernon Ave. home has flower and vegetable gardens; their sunroom will be open for viewing.
Brenda Fox's home on Angling Road in East Pembroke has extensive gardens and a pond. Brenda likes to color code her gardens.
Diane and Keith Boeheim's home and gardens on Violet Lane: The house has arts and crafts influences. Diane is a collector of frogs and fairies for her garden and teapots in her home. There is a pergola over the back patio.
Jennifer and Richard Dunn, 226 State St.; their 1904 home, which will be open for viewing, is distinguished by its circular staircase tower and curved dormers.
Dennis Wood and Jenny Myers on 3323 W. Main Road. This unique home built in 1944 was originally owned by Batavia nurseryman Jerry Wallace. It combines elements of local craftspersons with classic homage to Frank Lloyd Wright.
Georgia Childs and Paul Freeman's 1944 home sits on a corner lot. These owners have transformed it into a welcoming and semi-private garden retreat.
Debbie and Mike Barone's 1948 home has an arbor with climbing clematis which is the gateway to their peaceful backyard.
Susan Wakefield's home has winding gardens that create beautiful views and her clever use of planters create balance.
Carol and Dick Queal and Sharon and Bob Gray are neighbors on Fargo Road. Bob is also a master gardener. Come and enjoy all these two gardens have to offer.