November 5, 2015 - 3:00pm
Sponsored Post: Play D&R Depot's new scratch off game and win $100!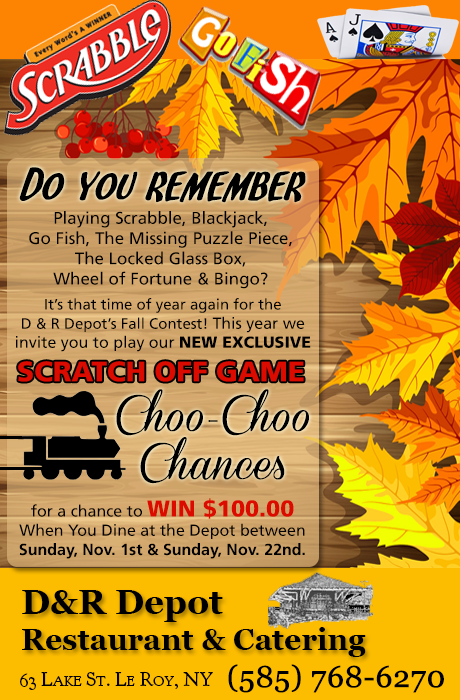 Do you remember playing Scrabble, Blackjack, Go Fish!, The Missing Puzzle Piece, The Locked Glass Box, Wheel of Fortune and Bing? It's that time of year again for the D & R Depot's Fall Contest! This year we invite you to play our new exclusive scratch off game "Choo-Choo Chances" for a chance to win $100.00!
Here are the rules: When you dine at the Depot between Sunday, Nov. 1st and Sunday, Nov. 22nd you will receive one Choo-Choo Chance ticket for every $10 you spend! Just scratch your tickets to reveal your prizes! Unlike New York State, all of our tickets are at least $10 winners!
Remember, the more you order, the more people you bring, and the more visits you make means more winnings in your pocket! And of course, EVERYONE that plays the game WINS at least $10.00, so basically, you're eating for free for the entire month of November! Now, don't forget to save this contest in your phone. Start time:11/1/15, 7 a.m., end time 11/22/15, 9 p.m. You'd better set the alarm, too!