May 26, 2015 - 3:00pm
Sponsored Post: Register today for the Run Baby Run 5K!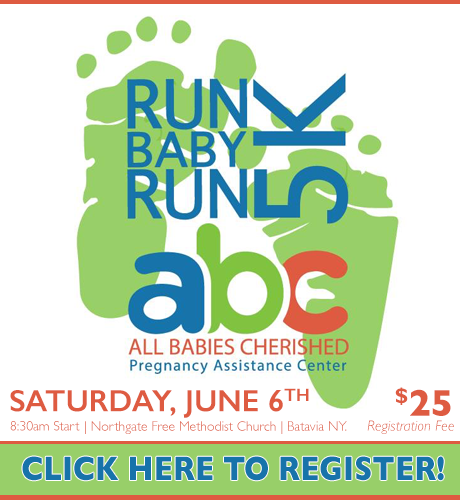 Run Baby Run 5K! All Babies Cherished -- All Pregnancy Assistance Center is holding a 5K run benefit on June 6th starting at 8:30 a.m. at Northgate Methodist Church, 350 Bank St., Batavia. All proceeds support All Babies Cherished.
$25 entry fee
-- To register,
click here
. T-shirts for all entrants registered by May 23rd. Prizes for five age categories, male and female. Registration will be accepted right up until race day. Official timing by PCR Timing Services. This is a sanctioned race.  
All Babies Cherished is still looking for event sponsors and donations of prizes for runners. 
If interested in donating or becoming a sponsor, please contact Tammy Arneth at
344-5660
or e-mail to:
[email protected]
.
Current sponsors are:
Massive Air Balancing
Advanced Podiatry
Kreative Kitchens and Designs
Knights of Columbus (Batavia)
Five Star Bank
Bank of Castile
Knights of Columbus (Le Roy)
S & S Limo
First Choice Travel
Mike Stasko 
Ameri-prise Financial
Dr. Salmon
This ad is sponsored by: The Rib Shack (formerly The Rack Shack) Ellicott St. Road, Batavia -- Click here to visit us online; RCK Seamless Gutters, Robbins Road, Le Roy, (585) 704-7589; The Golden Coin, 582 E. Main St., Batavia, 344-0040; Ben's Appliance, 634 E. Main St., Batavia --  Click here to visit us online!