November 29, 2012 - 4:55pm
Sponsored Post: St. Joseph's Food Drive This Saturday!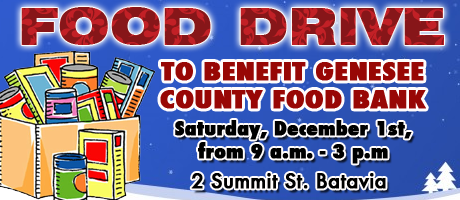 St. Joseph Catholic School will be holding a food drive to support the Genesee County Food Bank this Saturday, December 1st, from 9 a.m. until 3 p.m. at the school, located at 2 Summit Street in Batavia.
Donations of non-perishable boxed, bagged or canned goods will accepted and those that donate will be able to pull up and drop off their donation. Volunteers will be on hand to help unload donations.
St Joseph's is participating in a contest sponsored by Channel 2's (WGRZ) meteorologist Andy Parker. The school is hoping to collect enough donations to win a visit from Andy and the weather machine. The school is currently in 8th place and has collected 235 pounds of food, enough for 196 meals. Since the contest is judged by weight, organizers encourage donations such as bags of rice and large cans of fruit and vegetables.
Visit us online: http://www.sjsbatavia.org