March 25, 2013 - 3:57pm
Sponsored Post: Sweet Ecstasy Bakery - Easter Menu - Order Your Goodies Today!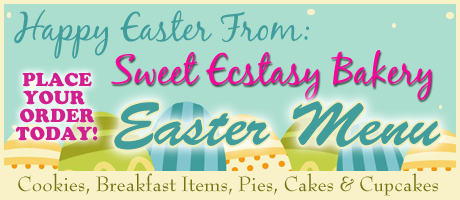 Sweet Ecstasy Bakery Easter Menu! Pick up Saturday - March 30 - from 9 a.m. to 4 p.m. All items are by order only. You must order by Thursday, March 28.
Cookies: Frosted Sugar Cookies: choose from Easter Egg, Bunny, Crosses, Butterflies, Flowers, Chicks and more. $9/Dz. Lemon Drop Cookies: Small: $4/Dz.  Large: $8/Dz.
Breakfast Items: Lemon Bread $5, Coffee Cake $11 -- Cinnamon, Cinnamon Nut, Apple. Scones $9 1/2 Dz. -- Lemon Blueberry, Chocolate Chip, Blueberry, Glazed Raisin. Jumbo Muffins $8 1/2 Dz. -- Chocolate Fudge Chip, Apple Streusel, Blueberry Streusel, Strawberry Streusel, Banana, Honey Bran, Sour Cream Coffee Cake, Lemon Poppy Seed.
Pies: $15 each. Flavors: Apple, Banana Cream, Blueberry, Caramel Apple, Cherry, Chocolate Banana Cream, Chocolate Cream, Coconut Cream, Dutch Apple, Key Lime, Lemon Meringue, Mince Meat, Mixed Berry, Peach, Pineapple Cream, Pumpkin, Sugar Free Apple, Sugar Free Cherry, White Chocolate Raspberry, White Chocolate Silk.
Cakes & Cupcakes: 9" Round -- $22 | 12" Square --  $45 | 1 Dz. Cupcakes -- $18. Coconut -- A fluffy white cake with coconut filling and frosted with coconut buttercream.
Good Bunny - Spiced cake with fresh carrots & raisins topped off with a rich cream cheese icing and walnuts.
Lemon Raspberry -- Lemon Cupcake filled with Raspberry topped with a vanilla buttercream.
Cheesecakes: Orange creamsicle, triple citrus, classic cheesecake, cookie dough, lemon blueberry.
SweetEcstasyBakery.com
716-795-2253 •  6173 Main Road in Stafford