June 18, 2013 - 3:18pm
Sponsored Post: Sweet Ecstasy Bakery - Join the Sushi Supper Club, reserve your tickets now!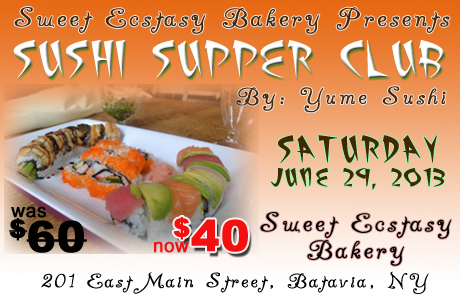 We are pleased to announce a Sushi Supper Club by Yume Sushi here at Sweet Ecstasy Bakery, 201 E. Main St., Batavia, NY 14020. The dinner will be held Saturday, June 29, 2013 with seating at 4 p.m., 4:30 p.m. and 7 p.m., 7:30 p.m.
I know you are going to enjoy the sushi from Yume Sushi not only for the longtime sushi fans but also those who are new to the experience. 
Menu Items are as follows;
Course 1 - MISO SOUP
Thin broth with tofu, miso and seaweed.
Course 2 - WAKAME SEAWEED SALAD
Seasoned with a blend of ingredients including wakame, sesame, sugar & vinegar.
Course 3
DRAGON ROLL
Eel, Avocado, Cucumber, Red Masago
CALIFORNIA ROLL
Crab, Avocado, Cucumber, Orange Masago
RAINBOW ROLL
Ahi Tuna, Salmon, Yellow Tail, (Hamachi), Crab, Avocado, Cucumber
Course 4
Green Tea Ice Cream - House made
Reservations only! To purchase your tickets, please click here!
Sweet Ecstasy @ GO ART! | Seymour Place | 201 E. Main St., Batavia, NY 14020 | 585-813-3652