July 13, 2016 - 7:00am
Sponsored Post: The Genesee County Fair is here! July 13th listing of events!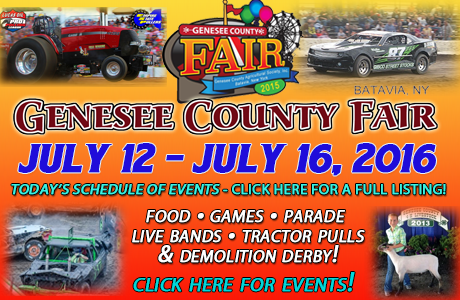 WEDNESDAY, JULY 13TH Today's Events • Children's Day - 4H Family Night. "Kids Ride Special $5 Wrist Bands 12-3pm
All Day Matt Episcopo (Roving the Fairgrounds)
9am - 4H Goat Show (Show Ring)
10am - 4H Poultry Show (Merton Building)
11am - Exhibit Halls & Buildings Open
12pm-3pm - Midway Opens for Special Kid's Day $5 Ride Wrist Bands (Amusement Area)
12pm - Children's Activities (Exhibition Building)
1:30pm - 4H Breeding Sheep Show (Show Ring)
2-4pm -  Balloon Animal Demonstration (Exhibition Building)
2-8pm - Mr. Scribbles (Entertainment Tent)
3pm - Small Fry Tractor Pull (Exhibition Building)
4:30pm - 4H Goat & Sheep Costume Contest (Show Ring
5pm - Car Show (W. of Ent. Tent)
5-10pm - Midway Re-opens (Amusement Area)
6pm - 4H Open Swine Breeds & Showmanship (Show Ring)
6pm - North American Six-Horse Hitch Classic Series & Draft Farm Class (Horse Arena)
6:30pm - 4H Rabbit Show (Merton Building)
7pm - Fair Queen Crowning (Entertainment Tent Stage)
10pm - Exhibit Halls & Buildings Close.
This schedule is tentative and is subject to change at any time.